Van Halen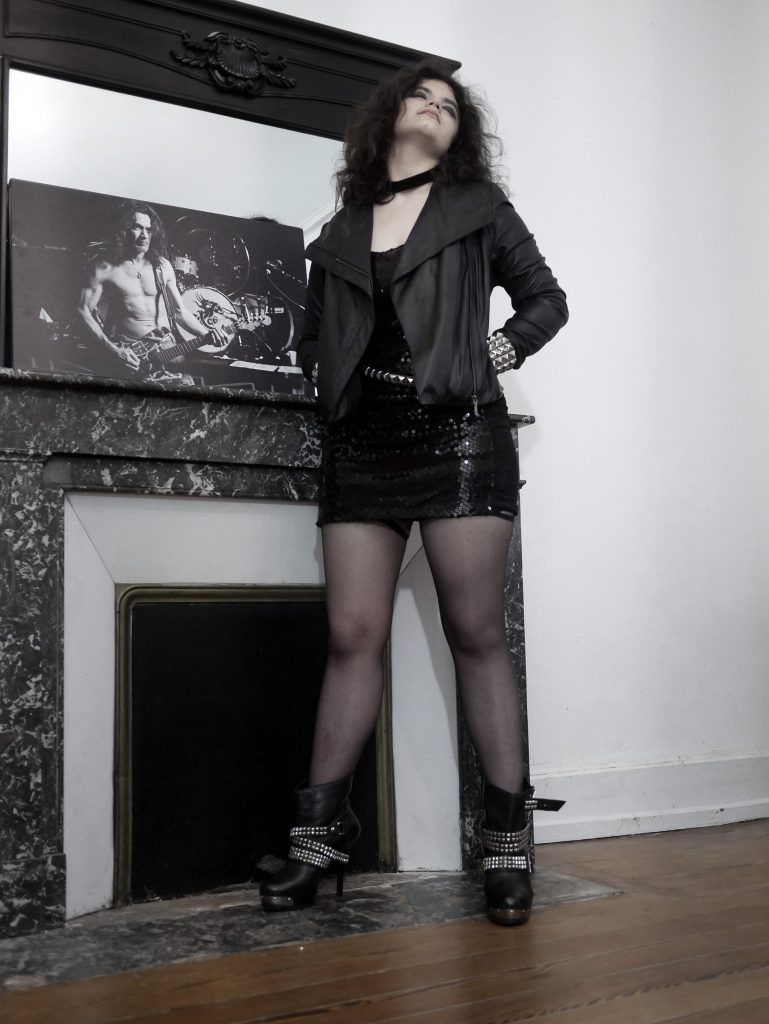 Van Halen was an American hard rock band formed in 1972. It was founded by brothers Eddie Van Halen and Alex Van Halen, later joined by singer David Lee Roth and bassist Michael Anthony. Van Halen quickly rose to fame with their first album of the same name in 1978, and is widely regarded as a milestone in rock sales in the US, ranking 19th on the list of top record sellers in the US with 56 and a half million sales. The band has managed 13 singles to reach the top of the Hot Mainstream Rock Tracks, a record that lasted until 2018. It is also one of five rock bands to have two of its albums certified with the Diamond Disc in the United States (Van Halen and 1984, respectively). To date, it has sold over 90 million copies of records worldwide.
In addition to being recognized for their success, the band is known for the drama surrounding the departure of former members. The multiple departures of vocalists David Lee Roth, Sammy Hagar and Gary Cherone were surrounded by controversy and press coverage, including numerous conflicting statements between the singers and the band. After the 2004 tour with Hagar, the band went on a public hiatus until September 2007, when bassist Wolfgang Van Halen (Eddie's son) was confirmed, and Roth was rumoured to be returning to the band, both events coinciding with induction into the Rock and Roll Hall of Fame on March 12, 2007. After years of speculation, Van Halen returned to tour with Roth in North America in 2007 and 2008.
In 2012, the band began touring again and released their first album in 14 years (and first with vocalist Lee Roth since 1984), "A Different Kind of Truth". The VH1 channel placed them at #7 on their list of the 100 greatest hard rock artists ever. In 1992, they won a Grammy Award in the "Best Hard Rock Performance" category for their album For Unlawful Carnal Knowledge.
History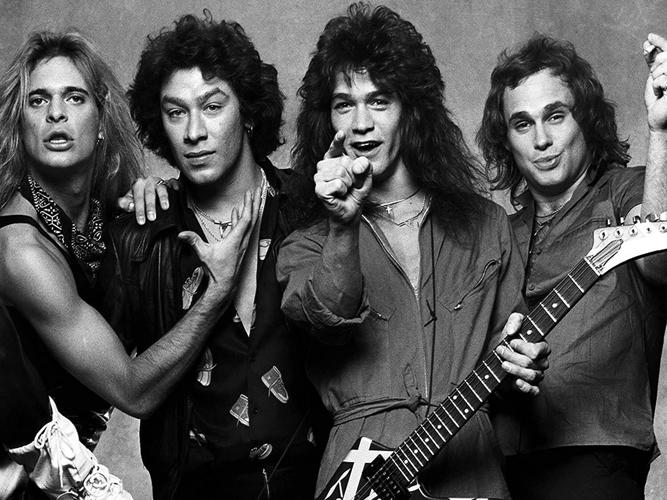 Born in Nijmegen, the Netherlands, Eddie Van Halen and Alex Van Halen are the sons of musician Jan Van Halen, who made them take music lessons. The Van Halen brothers started playing together in the 1960s, when Eddie played classical piano and later drums, and Alex played guitar. While Eddie delivered newspapers, Alex played Eddie's drums on the sly. Later, Eddie discovered that Alex was playing his instrument and was so frustrated that he told Alex, "OK, I'll play your guitar".
The band's origins date back to 1972, when the Van Halen brothers formed a band with bassist Mark Stone that went by various names such as The Trojan Rubber Company, The Broken Combs, Rat Salad and finally Genesis. Eddie also did the vocals in the band.
However, Eddie was not comfortable taking care of the vocals in addition to the guitar. David Lee Roth was a "friend" of the Van Halen brothers, and because they eventually rented a sound system from David to save money, they decided to put David on vocals. In 1974, the band decided to replace Stone with Michael Anthony, the bass player and vocalist of the local band "Snake". After an all-night jam session, he was hired for bass and backing vocals.
During this period, they found out that there was another band called Genesis, which forced them to move to Mammoth quickly. They finally opted for the brothers' last name, Van Halen, which Roth believed had the same power as Santana. Thus, the Van Halen band consisted of David Lee Roth (vocals), Edward Lodewijk Van Halen (guitar and keyboard), Alex Arthur Van Halen (drums) and Michael Anthony (bass). The band started out playing only covers and soon became very well-known in all the bars in Los Angeles.
In 1976, while playing in a bar in Los Angeles, Gene Simmons, leader of the band Kiss, discovered them and decided to make a demo with the band. The demo, which contained the first version of Runnin' with the Devil, was not very successful and was not accepted by any record company.
In 1977, before the group released their debut album, producer Ted Templeman still questioned whether Dave Lee Roth's vocals would be up to the band's standards. Dave even took singing lessons to get to his best. According to Greg Renoff, author of the book "Van Halen Rising", which tells the story of the group, Sammy Hagar, then lead singer of Montrose, had been impressive for some time and was even considered for the band's vocals. However, Lee Roth's intensity and comedic skills convinced Templeman that Roth would handle the job.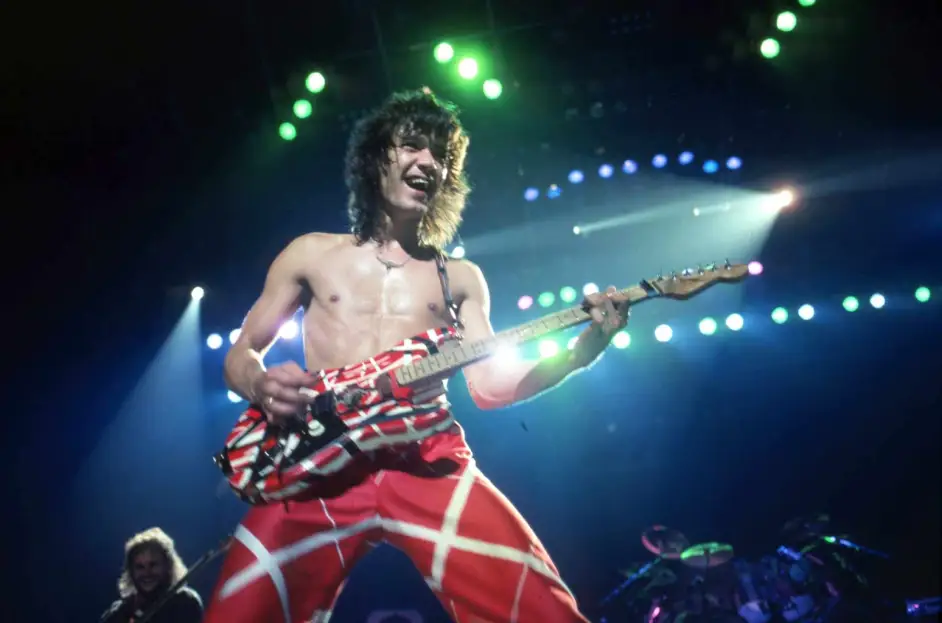 David Lee Roth Era (1974-1985)
In 1976, while playing in a bar in Los Angeles, Gene Simmons (Kiss's bassist/vocalist) discovered them and decided to make a demo with the band (whose equipment was all borrowed). This demo, which contained the first version of "Runnin' With The Devil", was unsuccessful and not accepted by the record companies. The following year, in 1977, producer Ted Templeman from Warner Bros. Records met the band in the same bar where Gene met them and signed them. 1978, the first album, also called Van Halen, was released. The album was highly acclaimed, especially the guitar solo "Eruption".
Over the next five years, the band released five more albums, keeping their original lineup. In January 1983, the band performed in Brazil (and also in Argentina, Uruguay and Venezuela). The band hasn't been back to South America since then.
In 1983, Eddie Van Halen built his own home studio, 5150 Studios – the name refers to the police code for insanity arrest – and participated as a guest on the Michael Jackson song "Beat It", which would not have pleased lead singer David Lee Roth. However, the song became a milestone in music history, where the barriers between black and white music finally began to be broken. The solo is probably the best-known of the 80's. Michael and Eddie performed the song live on the Jacksons' 1984 tour.
In his autobiography (Crazy From The Heat), Roth says that he did approve of Eddie's participation in "Beat It", as he believed the track would be an excellent vehicle for Eddie to showcase his talents. Roth further states that his problem with Eddie's participation in the song was that Eddie did not want to be paid for the work, receiving only a thank you note.
In 1984, the band released their most successful album,1984, which reached number two on the Billboard 200, the US record chart – behind the album that contained "Beat It", Thriller. 1984 also contained the band's best-selling single, "Jump", which went to #1 in the US, #2 in Australia, and #7 in the UK.
The original line-up lasted until 1985, when David Lee Roth decided to go solo due to a falling out with Edward Van Halen.
According to Gene Simmons, lead singer of Kiss, in 1982 (three years before David left the band), Eddie contacted him about the possibility of joining Kiss. According to Simmons' accounts, Eddie told him that he was "so unhappy with the way he and Roth were – or weren't – getting along. They couldn't stand each other. And the drug use was excessive.
"Van Hagar" era (1985-1996)
In mid-1985, while Eddie was looking for a new singer, his mechanic gave him the contact information of another of his clients, Sammy Hagar, who had led the band Montrose in the 1970s and was having a successful solo career. Thus began the Sammy Hagar Era, which became affectionately known to fans as Van Hagar.
At their first meeting in the studio, they composed "Summer Nights"'. In 1986, they released the album 5150, the first band album to become #1 on the US charts, and had successful singles like "Dreams" and "Why Can't This Be Love?", reaching #3 on the Billboard Hot 100.
Four more albums were released, all of which reached number one on the US charts. In 1996, in the midst of turbulent recordings of "Humans Being" for the movie Twister, and Hagar not agreeing with the band to make a compilation, the singer eventually left Van Halen.
Short reunion with Roth (1996)
While the band was planning a compilation, David Lee Roth called Eddie, asking what songs would be included. The friendly discussion led to an invitation for Roth to visit Eddie's home studio. Eventually, the band recorded two songs, "Can't Get This Stuff No More" and "Me Wise Magic," which peaked at number twelve and number one on the Hot Mainstream Rock Tracks, respectively, and would be included on the Best of Volume I compilation (1996). Despite rumours of a reunion, Roth's return was limited to the two songs, as Roth and Eddie had a verbal altercation. Days after recording these songs, the band appeared at the MTV Video Music Awards, and David Lee Roth was passed over again (Gary Cherone was the lead singer at the performance).
Gary Cherone Era (1996-1998)
The band's manager, Ray Danniels, suggested the acclaimed Gary Cherone, ex-Extreme, for the lead singer spot. A meeting was arranged in which the band immediately accepted him. In early 1998, the album Van Halen III was released, which was a commercial failure, being the band's first (and so far only) album not to exceed one million copies in North America. Despite the low sales, the album reached #4 on the Billboard 200 and had one single, "Without You", reach the top of the Rock Mainstream. Eddie even played drums and bass on some songs when he felt necessary and even sang on one. Cherone didn't stay long in his new job, leaving the band right after the album tour.
Eddie then goes through a turbulent time, separating after years of marriage and being diagnosed with cancer of the tongue. The group goes on hiatus, and Michael Anthony accompanies Sammy Hagar on his solo tour.
Reunions (2001-2006)
Michael Anthony, Sammy Hagar and Eddie Van Halen on the 2005 tour.
On April 26, 2001, Eddie announced on the band's official website that he had been examined by three oncologists and three neurosurgeons, who stated that he was "healthier than ever and beating cancer."
In 2004, Sammy Hagar returned to the band and recorded three new tracks on The Best of Both Worlds compilation. The band reunites for a tour of the United States, although Michael Anthony only joined at Hagar's insistence. After the tour, everyone goes back to their own ways.
In 2006, the band revealed that they would play again with Eddie's son Wolfgang on bass. Eventually, Roth's return was confirmed.
Return of David Lee Roth (2007-present)
In August 2007, the band Van Halen called a press conference and announced a North American tour, now with the lineup: David Lee Roth, Eddie Van Halen, Alex Van Halen, and Wolfgang Van Halen, Eddie's son who stepped in in place of Michael Anthony to play bass. The tour lasted 74 shows from September 2007 to March 2008 and became the band's most lucrative tour, with revenues of $93 million.
In 2010, Van Halen went into the recording studio to produce a new album with producer John Shanks. Their official website was updated on December 26, 2011, announcing that tickets for their 2012 tour would be available starting January 10, 2012.
In January 2012, after 14 years without releasing an album, the band officially announced the release of A Different Kind of Truth, their first with Roth since 1984 and their first with the Interscope Records label. The album announcement was made at an intimate show at Cafe Wha in New York City. The video clip for the first single from the new album, "Tattoo", was released later that month, and the song was sold on iTunes. A North American tour was also announced, encompassing several cities in the United States and Canada and some dates in Japan.
The album received good reviews and came in second on the Billboard 200, behind only Adele's 21.
The tour sold out most of its shows and rolled normally until May, when it was announced that the shows would be postponed. Eventually, it was revealed that the cause of the break was that Eddie would have operations to treat diverticulitis, and the band would not return to the stage until 2013.
On March 31, 2015, they released Tokyo Dome Live in Concert, their first live album with Roth and the second of the band's career. The album was recorded on June 21, 2013, at a show in Japan and made available on a double CD, a 4-LP 180g edition, and digital format.
Deaths of Eddie Van Halen and Mark Stone
On October 6, 2020, at the age of 65, Eddie Van Halen came to his death due to complications resulting from throat cancer, which is believed to have spread to his brain and other organs. His son, Wolfgang Van Halen, announced his death via his Twitter account, placing uncertainty over the band's continuity. Eddie had been carrying these problems since the mid-2000s when he had to have a third of his tongue removed due to cancer. Since then, he has continuously fought the disease. His death came just ten days after Mark Stone, Van Halen's original bassist, also passed away from cancer. Mark Stone was in the band from 1972 to 1974 when the band was still called Mammoth; Stone was replaced in 1974 by Michael Anthony, who established himself as Van Halen's bassist until 2006.
Controversies
David Lee Roth x Van Halen
The troubled (and to this day poorly explained) departure of David Lee Roth from the band caused a rivalry to grow, and the provocations on both sides were so intense that to this day, there are stories about indirect pinpricks through the albums released by them. The "war" is public, notorious and irremediable – and the subject dominates 90% of Van Halen-related online forums and websites.
Van Halen's first album without David, came out in March 1986 and bore the name "5150". The band's explanation is that 5150 was the name of Eddie Van Halen's studio. However, rumour has it that 5150 is the American police code for situations where there is a madman on the loose. Moreover, the album art itself (cover and back cover) brings a subliminal message that induces one to understand that the man who appears there, unable to hold the band's logo, would be David.
In July 1986, David released the first album with his supergroup (The David Lee Roth Band), which had been assembled to compete with Van Halen, with the curious name of Eat 'Em and Smile.
Both bands went on tour and were vying for public preference and media space.
In 1987, The David Lee Roth Band released their second album, titled "Skyscraper" (in Portuguese, skyscraper). According to David's fans, the name was again a provocation, saying that he and his band would be on top.
Nevertheless, in 1988, David Lee Roth received the answer to his "Eat Them and smile". In October, Van Halen released a new album with the curious title "OU812". Legend has it that the code would be a pun and carried the subliminal message, "Oh you ate one too. David Roth would receive a response for his "eat them and smile.
A possible response from David would come in April 1991 with "A Little Ain't Enough", and months later, Van Halen would release "F.U.C.K", which in English is a swear word.
David Lee Roth Era vs. Van Hagar Era
The declared war between David Lee Roth and Sammy Hagar created an unhealthy rivalry between the legion of fans of both, which became split between "Redheads" (Hagar defenders) and "Roth Army" (Roth defenders).
Although Van Halen's albums with Sammy Hagar were the only albums by the band to reach #1 on the U.S. charts, sales, compared to those of the David Lee Roth era, fall about ten million copies short, according to official agencies.
Guitarist Joe Satriani defends both, saying that each achieved success in their respective eras. He defines them as David Lee Roth's "more vaudeville" and Sammy Hagar's "more rock n roll.
Eddie Trunk, music historian and major radio personality in the US, in his book "Eddie Trunk's Essential Hard Rock and Heavy Metal", makes a comparison between the two phases of the band:
" "David Lee Roth was a great Frontman for sure, yet no one would certainly call him a great live singer. On the other hand, Sammy was a powerful vocalist, opening up Van Halen's musical possibilities leaving Eddie able to enter musical paths he could not with Roth's vocal limitations.