My Dying Bride
My Dying Bride is a Doom Metal band formed in Bradford, England, in 1990. To date, My Dying Bride has released twelve studio albums, three EPs, one demo, one box set, four compilation albums, one live album and a DVD release.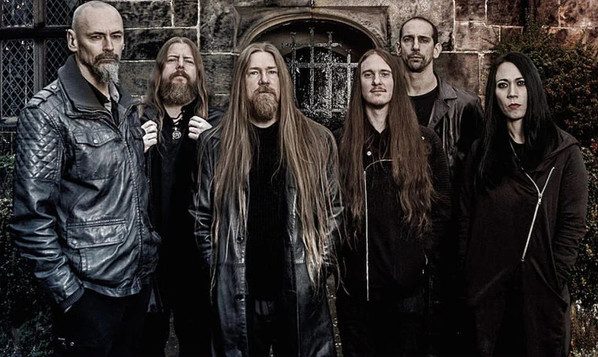 Along with Anathema and Paradise Lost, My Dying Bride is one of the precursors of the Death-doom Metal and Gothic Metal genre and is considered part of the "Peaceville Triad", as the three bands were signed to the Peaceville record labs.

My Dying Bride released a total of 13 albums, and their 13th album, "The Ghost of Orion", was released on 6 March 2020. It was released five years after their previous work, "Feel the Misery", which is the band's longest gap between studio albums to date.
Beforehand, the album's first single, "Your Broken Shore", was released on 20 January 2020, followed by a second single, "Tired of Tears", on 7 February 2020.
Later in 2020, the band released their 7th EP, "Macabre Cabaret".
I am not a Dooms Metal expert, so I am leaving here the link where you can read more about this band.
https://en.wikipedia.org/wiki/My_Dying_Bride
Current lineup

Aaron Stainthorpe – vocals (1990–present)
Andrew Craighan – lead guitar (1990–present)
Lena Abé – bass (2007–present)
Shaun MacGowan – violin, keyboards (2009–present)
Neil Blanchett – guitar (2019–present)
Dan Mullins – drums (2007–2017, 2022–present; live only)
Studio Albums
As the Flower Withers (1992)
Turn Loose the Swans (1993)
The Angel and the Dark River (1995)
Like Gods of the Sun (1996)
34.788%…Complete (1998)
The Light at the End of the World (1999)
The Dreadful Hours (2001)
Songs of Darkness, Words of Light (2004)
A Line of Deathless Kings (2006)
For Lies I Sire (2009)
Evinta (2011) – also categorized as a remix album
A Map of All Our Failures (2012)
Feel the Misery (2015)
The Ghost of Orion (2020)