Sarcofago
Sarcófago (The Black Vomit of Satan)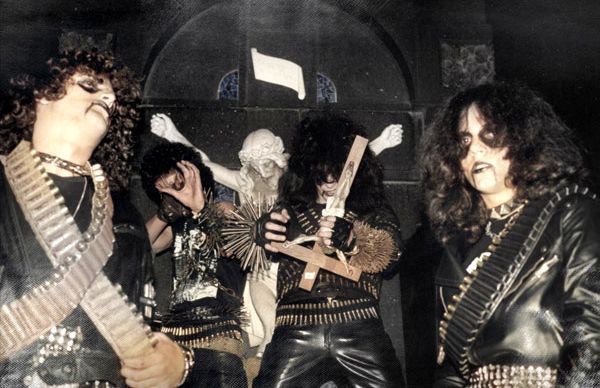 The Year was 1985. Spawned from the rotting Black Vomit of Satan's regurgitation arose a legendary Black Metal Beast.
Behold SARCÓFAGO. The Essence of Real Black Evil. Soon after being kicked out of Sepultura for being too extreme, Wagner 'Antichrist' formed the first incarnation of Sarcófago together with J.R. 'Pussy Fucker' on bass, Zeder 'Butcher' on guitars and Eduardo 'Crazy' on drums. Soon, the first Demo entitled 'Satanic Lust' was recorded (February 1986), and live shows were evoked. Sarcófago embraced all of the traditions of the underground Black Metal Scene, spikes, leather, bullets, chains, inverted crosses and more full blasphemies thematic songs. They also created the usage of Corpse paintings in live performances.
The band's debut and main album present a first-class Black Metal with Death Metal influences. There was an innovative sound for the time, very heavy, dirty and fast guitars, devastating drums known as blast beat, a technique little used at the time, but that was already known by some bands like Napalm Death and Nuclear Death.
The band carried a very brutal and impactful look, such as the use of face paint that later became known as corpse paint. Adornments of bullet belts, bracelets containing rivets and nails. Continuing on with the debauchery, Sarcófago made a photoshoot for their first album I.N.R.I in a cemetery. The covers of their first studio album were taken on top of a grave.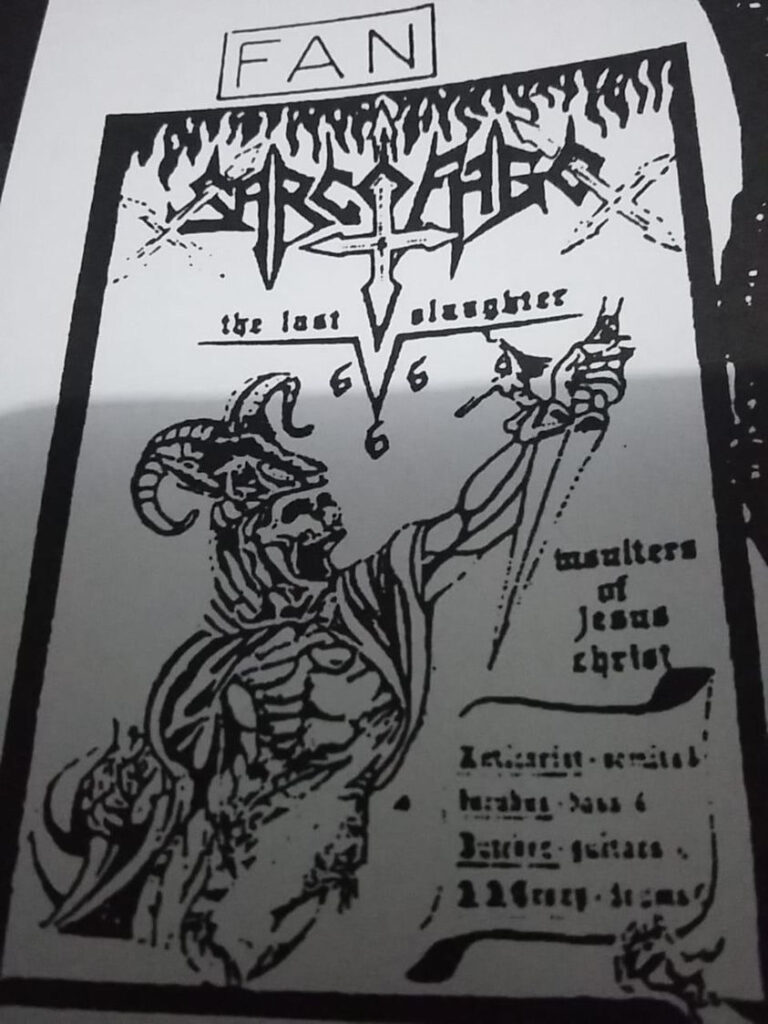 Later, after the release of their album abroad (1987), Sarcófago became recognized worldwide as a Black Metal /Death Metal band in other countries. High-profile musicians were seen wearing Sarcófago t-shirts and being influenced by their music.
The band ended its activities soon after releasing the EP Crust in 2000. But in 2006, the band got back together and toured all over Brazil, staying together until 2009.
Finishing this brief text, I affirm that Sarcófago is a national reference in the extreme scene, and their legacy has become immortal.
Article by Daniela FragDaniela works with us at Heavymetal-forever.com, and you will find her Instagram on the "About Us" session of the site.
Studio Albums
(1987) I.N.R.I.
(1989) Rotting
(1991) The Laws of Scourge
(1994) Hate
(1997) The Worst
EPs
(1992) Crush, Kill, Destroy – MCD
(2000) Crust