Tankard
Tankard is a Speed/Thrash Metal band from Frankfurt, Germany, formed in 1982.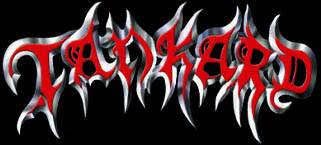 The band makes songs and albums continuously, since 1986, with the same style they started with: fast, alcohol-honouring metal songs. Thus they claim to have invented a new genre called "alcoholic metal". They consider themselves "Kings Of Beer" in honour of the folkloric character Gambrinus.
Tankard was formed in 1982 by three classmates: Andreas Geremia, Axel Katzmann and Frank Thorwarth. At the time, the band was still known as Vortex and/or Avenger, until the name Tankard was discovered by the band through a dictionary. The band's first song was "Ray Death", which was about nuclear war. The band's first concert was held in a classroom in 1983. Since the band members were not allowed to drink alcohol inside the institution, they emptied milk cartons and exchanged them for beer. Early on, Bernhard Rapprich, then a member of the band, left the group because his conservative father would not allow him to "hang out with a bunch of drunks". Bernhard was replaced by Andy Bulgaropoulos.
The band started out playing covers of bands like Metallica, Slayer, and their countrymen from Kreator and Destruction. In 1984, Tankard signed to the Noise Records label. Throughout all these years Tankard has been building a very solid fan base and has released a number of albums reinforcing their "Kings of Beer" image. Despite working in other fields for their livelihood, the band manages to stay "in the public and specialized media's sights" by touring and appearing frequently at Europe's most popular summer festivals.