Sodom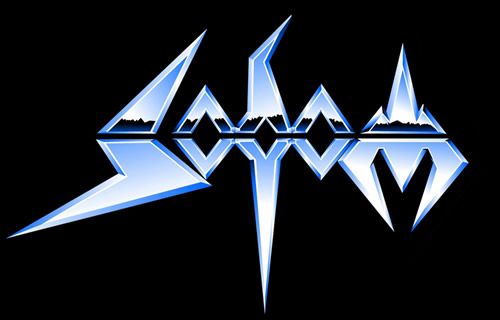 Sodom, a German thrash metal band formed in Gelsenkirchen in 1981, and Kreator, Destruction and Tankard, form the Big 4 of German thrash metal. Sodom would become a major influence on the black metal scene of the 1990s, as well as on extreme metal in general, due to their early releases, such as "In the Sign of Evil" and "Obsessed by Cruelty". Their albums became more focused on thrash metal from the 1987 album "Persecution Mania", which became a classic.
With a career spanning over thirty years, Sodom has released fourteen studio albums, three live albums, two compilations, and six EPs. They achieved their first commercial success with their third album, "Agent Orange" (1989), the first thrash metal album to reach the German music charts, reaching position 36. Remaining one of the most successful thrash metal bands in history, by 2001, Sodom had sold over one million copies worldwide.
Line-up and first releases (1981-1986)
Sodom's original line-up featured Tom Angelripper (vocals and bass) and Aggressor (guitar), who found drummer Bloody Monster, quickly replaced by Chris Witchhunter. The band was started by Tom, who was intent on getting out of his coal mine job in his hometown of Gelsenkirchen. Taking inspiration from bands like Black Sabbath, Iron Maiden, Motörhead, Judas Priest, Venom, Tank, Accept, Discharge, Ramones and AC/DC, the group released the demos "Witching Metal" (1982) and "Victims of Death" (1984), which despite showing an aggressive and satanic side in the group's compositions, gave them visibility in the German underground scene. During a performance in Frankfurt with fellow countrymen from Destruction and Tankard, they met Manfred Schutz from Steamhammer, who offered them a contract with his label. Agressor leaves the band, and Grave Violator takes his place, and they record the EP In the Sign of Evil, which is of great importance for the development of black metal.
Grave Violator does not last long in his position, giving way to Michael "Destructor" Wulf. The band began recording their first LP, "Obsessed by Cruelty", which kept the fast pace, raspy vocals, and lyrics about black arts influenced by Aleister Crowley. The album included the song "Deathlike Silence", whose name inspired Euronymous, former guitarist of Mayhem, to use it to name his record label: "Deathlike Silence Productions".
Classic Phase (1987-1990)
Now, with Frank "Blackfire" Gosdzik as guitarist, the band abandoned their satanic image, switching to the themes of war and politics. With this new outlook, they composed new songs and released the EP Expurse of Sodomy in March 1987, showing that the change had also affected the sound of the Germans, leaving their proto-black metal and going for purer thrash metal. After this promising sample, they released in the same year their second full-length studio album, entitled Persecution Mania. Featuring for the first time the mascot "Knarrenheinz" on its cover, the album was considered by many as the best of the band and one of the best in thrash metal in general: songs like "Nuclear Winter", "Christ Passion", "Bombenhagel" and "Sodomy and Lust" would become classics of Sodom, with guaranteed presence in the repertoire of their concerts. The following year, they released the video and live album Mortal Way of Live, which had its cover banned in Germany.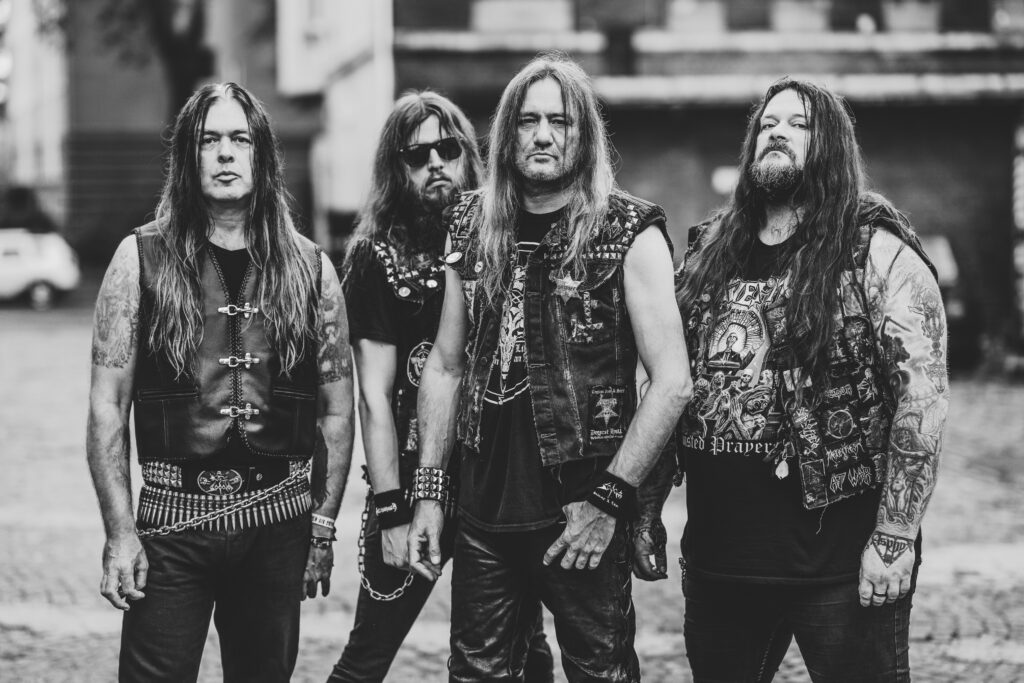 Sodom at the Evolution Fest 2007
In 1989, they prepared another album with producer Harris Jhonns and the designer Andreas Marschall in charge of the cover. Named Agent Orange, it was another album considered by critics and fans as one of the best in its genre, being the best-selling album of thrash metal in Germany, reaching the mark of 100,000 units sold only in their country, and reaching position 36 in the German album charts, another unprecedented mark for Sodom. During the Agent Orange tour, Sodom had the Brazilian band Sepultura as support, in a tour that went down in history with several conflicts between the members of the two bands. Guitarist Blackfire left the group to join Kreator, and Uwe Baltrusch (from the Mekong Delta) helped the German band finish the 1989 tour.
The peak of thrash in recent years was the best in its history. In 1990, a new guitarist entered the band who replaced Frank Blackfire and Michael "Micha" Hoffman. With this, they again go to Musiclab Studios with Harris Jhonns and make their fifth album, Better Off Dead, with a solid sound and traditional themes about war. Then they embarked on a successful tour to promote the album, passing through countries they had never played before, such as Japan and Brazil, and ending in Central America, consolidating themselves as one of the best bands in thrash metal.
Experimentations (1991-1998)
In 1991, they released the EP The Saw Is the Law, which follows the same line as Better Off Dead. 1992 was a critical year for Sodom: Hoffman is fired because he decided to settle in Brazil, leaving the band again without a guitarist. In his place comes a young unknown in the scene named Andy Brings, with whom they record at Dierks Studios the LP Tapping the Vein, an album heavier than its predecessor Better Off Dead, noticeably oriented towards death metal.
During the promotional tour for Tapping the Vein, the differences between the band members grew and, coupled with Chris Witchhunter's inability to fight his alcoholism problems, led to his resignation after they toured Japan.
To replace Chris Witchhunter on drums, Atomic Steif (ex-Living Death and Violent Force), an old band friend, was called in.
In 1993, the EP "Aber bitte mit Sahne " came out with Steif's debut; in 1994, they released the album Get What You Deserve, which completely changed the previous death metal sound demonstrated in Tapping the Vein to a thrash metal influenced by hardcore punk. The album cover showing a bloodied and shot man on a bed was censored in parts of Europe, which forced SPV to produce the rest of the copies with a picture of the band covering the cover. A few shows from the tour were recorded and released on the live album Marooned Live. In 1995, they released their seventh album, Masquerade in Blood, with an identical sound to their previous work, a thrash crossover with the powerful voice of Angelripper and the presence of Dirk Strahlimeier on the six strings. 1996, a musical compilation, Ten Black Years, was edited, compiling their best songs and unreleased material released until 1995.
Already in 1996, another change in the band took place: Strahli and Atomic Steif left the band. With the band almost dissolved, Angelripper decides to take a break to think about the future of Sodom and records his first album with his solo project, Onkel Tom. The following year, Bobby Schottkowski joined the band on drums and Bernemann on guitar, composing a lineup that would stabilize for many years. To debut this line-up, they release 'Til Death Do Us Unite, an album that takes up some of the classic Sodom sounds but still keeps one foot in the hardcore punk. The cover was censored again in Germany and other European countries. This time they recorded a music video for the song "Fuck the Police".
Return to thrash (1999-2009)
Band's logo.
1999 was a very important year for them, changing labels again to Drakkar. Keeping the same line-up, they bring Code Red, an album that returns to the roots of Sodom's spirit. With strength and violence, this CD leaves behind all previous complaints, replacing the crossover thrash with pure and aggressive thrash metal, characteristic of the Germans. In 2000, they took a break, but in 2001, they restarted their activity, returning to the SPV/Steamhammer label and releasing the album M-16, structurally very similar to Code Red but more consolidated, having as main theme war and armed conflicts.
Also in 2001, Tom, who had worked on other projects outside his main band – Desperados and Onkel Tom – was awarded for more than a million copies sold of Sodom's albums.
2002 was a year of concert for the band, and in 2003 the double live album, "One Night in Bangkok", was recorded at a concert in Bangkok, Thailand.
The consequent release, named simply Sodom (2006), came with a sound in the style of their last recordings and was acclaimed by their fans. Angelripper explains that the album title is because "every band has its self-titled album, and Sodom would be no exception. Tracks like "Blood On Your Lips" and "City of God" stand out.
In 2007, Tom calls guitarist Grave Violator and drummer Witchhunter to a reunion, and they record the CD "The Final Sign of Evil" (2007 SPV). This record contains a re-recording of their first EP, In the Sign of Evil, and previously unreleased tracks created by them in 1984, but which were not put on the record at the time due to label restrictions. With a darker sound in the black metal style, the CD pleased the avant-garde.
In War and Pieces, Epitome of Torture, Sacred Warpath and Decision Day (2010-2017)
In 2010, In War and Pieces came out, the last album with Bobby Schottkowski on drums, who left the group after the recordings due to Angelripper's problems. A few days later, the arrival of drummer Markus "Makka" Freiwald was announced. In January 2011, Tom confirmed the death of former guitarist Dirk Strahlmeier in a hospital in Düsseldorf.
The band's last album, "Epitome of Torture", was released on April 29, 2013.
In late 2014, Sodom released the EP Sacred Warpath. In August 2016, Sodom's fifteenth studio work, Decision Day, will be released with a cover designed by Joe Petagno. The album will talk about D-Day and World War II.
Breakup of the band and new lineup (2018-Present)
On January 05, 2018, vocalist Tom Angelripper announced that guitarist Bernemann (Bernd Kost) and drummer Makka (Markus Freiwald) are no longer part of Sodom. Despite the loss, Angelripper said the band will now be a quartet. The new line-up of the band features the return of Frank Blackfire on guitar, Yorck Segatz as second guitarist and Stefan "Husky" Hüskens on drums, who left Sodom months later and was replaced on January 19, 2020, by drummer "Toni Merkel".
Discography
Obsessed by Cruelty (1986)
Persecution Mania (1987)
Agent Orange (1989)
Better Off Dead (1990)
Tapping the Vein (1992)
Get What You Deserve (1994)
Masquerade in Blood (1995)
'Til Death Do Us Unite (1997)
Code Red (1999)
M-16 (2001)
Sodom (2006)
The Final Sign of Evil (2007)
In War and Pieces (2010)
Epitome of Torture (2013)
Decision Day (2016)
Genesis XIX (2020)