Lorna Shore
Lorna Shore is an American deathcore band originating from Warren County, New Jersey. Formed in 2010, the group currently consists of guitarist Adam De Micco, drummer Austin Archey, rhythm guitarist Andrew O'Connor and vocalist Will Ramos. They released three EPs, as well as a debut album, "Psalms", in June 2015, and their second album "Flesh Coffin" in February 2017. Their third album, Immortal, was released in January 2020. Their most recent EP, . .." And I Return to Nothingness", was released on August 13, 2021. Later resulted in the release of the fourth album, "Pain Remains" on October 14, 2022.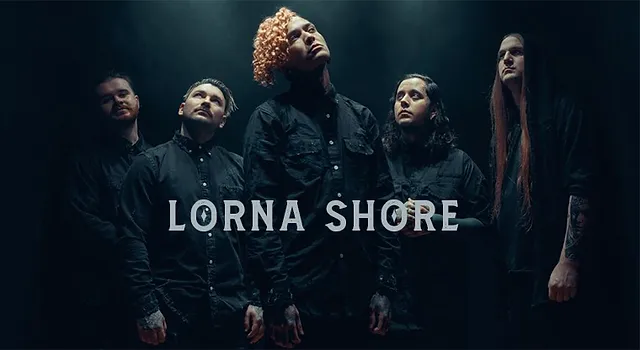 The band's first EP, titled Triumph, released in 2010, featured a distinct Metalcore sound, although at times it bordered on Deathcore. The band's second EP, "Bone Kingdom", was the first to carry a more deathcore sound, although it was a more direct sound, reminiscent of bands like Chelsea Grin and Oceano. The EP's second track, "Life of Fear," was used in a viral video titled "Heavy Metal Cats," which currently has over 6 million views on YouTube.
"Maleficium", the band's third EP, was released in December 2013. It reached number three on the iTunes Metal Chart and was also released as a CD digipak, making it Lorna Shore's first non-digital release. The band moves away from and dismisses any release prior to "Maleficium" and considers the EP to be the "rebirth and true starting point of their career". The band to this day still performs songs from the EP, and it is the oldest material they actively play live.
The band followed the release of "Maleficium" by opening Carnifex's Die Without Hope tour, alongside I Declare War, Betraying the Martyrs and Here Comes the Kraken. Since then, before releasing their debut album, they have toured with artists such as The Black Dahlia Murder, Archspire, Oceano, Fallujah, Fit for an Autopsy, Cattle Decapitation, Dying Fetus, Deicide, Upon a Burning Body, The Last Ten Seconds of Life, Chelsea Grin and Within the Ruins


Despite the setback caused by the McCreery situation, the band toured Europe based on Immortal, recruiting vocalist Will Ramos (ex-Monument of a Memory and A Wake in Providence) as a replacement. All further activities have been halted as a result of the COVID-19 pandemic.
On June 11, 2021, the band returned with a new song titled "To the Hellfire" and announced Ramos as their new permanent vocalist. They also announced details of their new EP, "And I Return to Nothingness"." It is the band's first EP since the release of "Maleficium" in 2013.
"To the Hellfire" became a viral hit for the band, reaching number one on the iTunes metal chart in its first week of release. The song was also voted by Revolver Magazine readers as the "Best Song of 2021 So Far", with writer Eli Enis commenting that "the band's debut song with new singer Will Ramos is legitimately one of the heaviest deathcore songs in recent memory. It has countless bone-breaking breakdowns, Blast Beats that last for days, a virtuoso guitar solo and virtuoso vocals from Ramos…"It would also surpass "Immortal" as the band's most-played song on Spotify, with over 4 million streams. It was chosen by Loudwire as the best metal song of 2021.
The EP was released on August 13, 2021, to positive reviews for the title track. Ricky Aarons, writing for Wall of Sound, reviewed the EP and title track, stating that Lorna Shore "continues the epic vehicle of destruction, but changes tact a bit, in a way reminiscent of their previous work…. The technical details and the speed of the riffs are incredible. Once again, Ramos ignores no detail in every lyric that sounds… He considers which lines end high or low, and these minute details are decisive. Rather than the song focus on the ferocity of Breakdowns, it's more about constant and fast melees and the technical element of this wonderful band."
On October 14th, the album Pains Remains was released, which features new dynamics and vocal techniques, this album has a more sentimental feel, but without leaving brutality aside, as we know Will Ramos, and continues with his tour presenting his album and singing less and less the album "Immortal", which already has millions of views in its videos, new songs like "Into the Earth" will give you goosebumps, showing beautiful lyrics and very fast and complex riffs, which leave you with a different feeling.
The trilogy of "Pains Remains I,II, III" was a success; songs that complement each other are three parts of a beautiful melody, with fantastic solos and really great vocals being the "Pain Remains" the second most popular song on Spotify heard at the moment (5/14/2023) with just over 11 million views, just behind "To The Hellfire" which already has almost 35 million views, a great song with a sentimental touch was Soulless existence, which brought such a calm and different feeling, not to mention very exciting, the band is still incredible and always bringing surprising things