Him
HIM (sometimes stylized as H.I.M.) was a Finnish rock band formed in 1991 by Ville Valo, Mikko "Mige" Paananen and Mikko "Linde" Lindström under the name His Infernal Majesty.
The band started doing covers of bands like Type O Negative, Black Sabbath and others, eventually developing their own style within rock. It was only in 1995 that the group began to develop its trademark sound, that is, a style that mixes Heavy Metal/Hard Rock with romance, whose recurring dark themes are pain and death with love and romance. The band adopted this sound, which they called "Love Metal".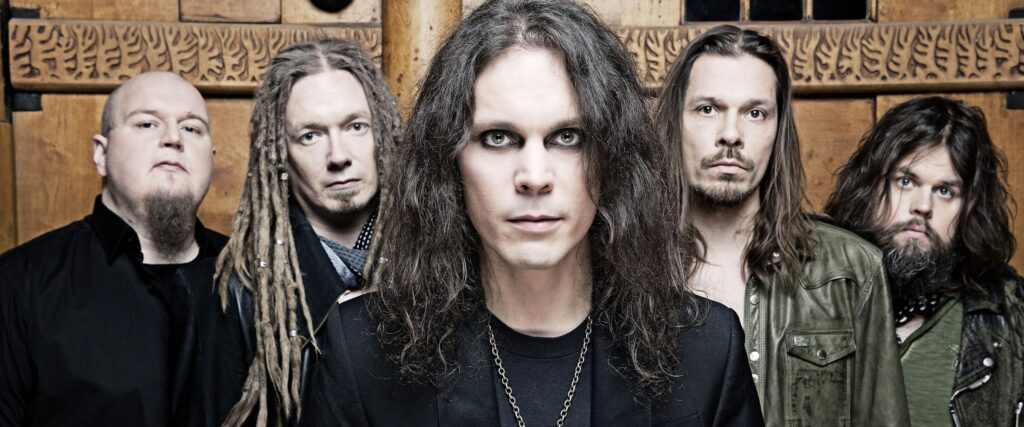 HIM is one of the most commercially successful Finnish bands of all time, with sales of over ten million records. The band has released eight studio albums, five compilations, three video releases and two box sets, along with a live album and a remix. The band has also received numerous accolades, including eight Emma Awards.
History
Ville Valo (left) and Mige (right) formed His Infernal Majesty in 1991
Created in 1991, the Finnish band HIM was formed by Ville Valo (vocals), Mige (bass), Linde (guitar), Burton (keyboards) and Gas (drums), with Ville, Mige and Linde being in the band since the beginning, while Burton and Gas replaced former members
The band was born with an innovative proposal to combine feeling and melancholy with heavy guitars, creating a unique sound that can commonly be called love metal. Ville Valo's unmistakable bass-baritone voice manages to convey a unique melody.
HIM is influenced by bands such as The Doors, Blue Öyster Cult, Black Sabbath, Paradise Lost, Type O Negative, Sentenced, The 69 Eyes, The Sisters of Mercy and Fields of the Nephilim.
The band's first album, titled Greatest Love Songs Vol. 666, was included in 2020 by Metal Hammer magazine on its list of the 20 best metal albums of 1997. On this same album, the band re-recorded "Wicked Game", a song that was successful in the past in the voice of Chris Isaak. When asked why he re-released this song, Valo responds: "I can identify with the feeling of this song; it has the same kind of melancholy that you find in traditional Finnish songs and in our music. We have a lot more in common with a guy like Chris Isaak than with any testosterone-heavy metal band."
Later, in 1999, they recorded the album Razorblade Romance at Rockfield Studios, with production done by John Fryer. This album features some of HIM's biggest hits, such as "Poison Girl", "Join Me in Death" and "Right Here in My Arms".
The next albums, Deep Shadows and Brilliant Highlights and Love Metal would only confirm the band's quality, which earned them fame and space in the media for new work. In 2004, the compilation album And Love Said No: The Greatest Hits 1997-2004 would be released.
HIM released their fifth studio album, Dark Light, in 2005. The album was released almost simultaneously worldwide (something unprecedented for the band), and two very successful singles came out: "Wings of a Butterfly" and "Killing Loneliness ". With this album, HIM was the first Finnish band to sell more than 500,000 copies in the United States. In 2006 and 2007, the band released the compilations Uneasy Listening Vol. 1 and Uneasy Listening Vol. 2, respectively, which included B-Sides and other never-before-released versions of some songs.
The sixth studio album arrived in 2007. Called Venus Doom, it is considered by fans to be the band's darkest album due to the time in which it was made. Ville Valo was having personal problems and his alcoholism was getting much worse, and this is all reflected in the sound of the album. The following year, with Valo already recovered, the band's first live CD/DVD was released, Digital Versatile Doom, which was recorded at the end of 2007 at the Orpheum Theater in Los Angeles.
In 2009, Valo stated that the band would return to the studio in the same year to record the next album. Recording for the album, called Screamworks: Love in Theory and Practice, began on August 3 and continued until October 8, 2009. The album was released in February 2010. In the deluxe version, a bonus CD was included with all 13 tracks from the album in their acoustic forms, and at the end of the year, the band released the compilation SWRMXS, which included remixes of all Screamworks tracks, made by different electronic music artists.
During 2011, the band separated from the record company with which they had released the last three albums, Sire/Warner, and apparently became inactive. In November, it was revealed that the band was working on the next album, but that work was interrupted due to health problems with the drummer, Gas Lipstick.
End
In March 2017, the band announced on their Facebook page that they would be ending their activities. A farewell tour was announced, totalling 35 shows in 14 European countries.
Vocalist Ville Valo commented:
"After a quarter of a century of intertwined Love and Metal, we sincerely feel that HIM has run its natural course, and a goodbye must be said for as yet unexplored sights, scents and sounds to emerge. We complete the pattern, solve the riddle and turn the key. Thanks.
1997 — Greatest Love Songs Vol. 666
1999 — Razorblade Romance
2001 — Deep Shadows and Brilliant Highlights
2003 — Love Metal
2005 — Dark Light
2007 — Venus Doom
2010 — Screamworks: Love in Theory and Practice, Chapters 1-13