Immortal
Immortal is a Black Metal band from Bergen, Norway, formed in 1990. Considered one of the pioneers of the style, the band was founded by Demonaz and Abbath, who were in charge of writing all the music and lyrics. They are not brothers, although they sometimes sign their names as "Demonaz Doom Occulta" and "Abbath Doom Occulta".
After a legal dispute over the name began in 2014, Immortal underwent line-up changes, consisting of Demonaz (guitar and vocals) and Horgh (drums). Abbath, in turn, left the group and pursued a solo career.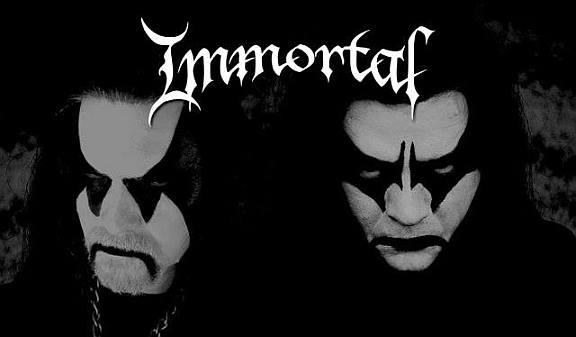 In September 2001, Immortal returned to Abyss Studios with producer Peter Tägtgren to begin recording their next album. "Sons of Northern Darkness", released in February 2002, had a more melodic atmosphere, full of blast beats, and sometimes reminiscent of the previous album. The album was also released in a limited edition metal box, which sold out quickly.
Between March and April, they participated in the European festival No Mercy, organized by Rock Hard magazine, sharing the stage with bands such as Vader, Hypocrisy, Malevolent Creation and Deströyer 666.
After the end of the tour, they acted as guests of Manowar in some concerts in the United States, but without the presence of Iscariah, who left the group after three years to join Necrophagia and found Dead to this World.
A statement saying, "I followed my instinct and left Immortal. This band has been my life for the last three years, and now I find myself as if I'm getting a divorce. The group is becoming increasingly famous, which means a complete dedication to the same. Immortal will hire a new bassist to perform the European tour and other performances. We are optimistic about his ability, and I am sure he will be a permanent bassist. The band will reveal his name in the coming days. I take this opportunity to greet my brothers and wish them the best for the future."
After hiring Yngve Liljebäck, known as Saroth, Abbath participated as a guest musician on Dimmu Borgir's "Death Cult Armageddon" album.
In early 2003, Sons of Northern Darkness was nominated for the Norwegian Spellemann and Alarm awards, although Satyricon's Volcano won.
In July, shortly after Horgh and Iscariah reunited in the band Grimfist, rumours began that Immortal was splitting up.
Although, at first, Nuclear Blast denied the rumours, a few hours later, the group officially announced the dissolution.
The members continued working on other musical projects with the end of Immortal. Horgh, the most active of the trio, joined Hypocrisy in addition to continuing in Pain and Grimfist. Abbath, in turn, collaborated as a guest on Enslaved's album Isa and together with Demonaz founded the super-group I with Enslaved guitarist Arve Isdal, Gorgoroth bassist King ov Hell and original Immortal drummer Armageddon. I published his debut album, "Between Two Worlds", in November 2006.
In June of the same year, Abbath said in an interview with Rock Hard that he had spoken to Horgh and Demonaz about a possible band reunion; shortly afterwards they announced concert dates on Nuclear Blast's official website.
The bassist position was occupied by Apollyon (Ole Jørgen Moe) from Aura Noir. According to Abbath, Iscariah became interested in the group's reunion when he realized he could profit, but the other band members did not accept him.
The result of the return was the 7 Dates of Blashyrkh Tour, formed by the following concerts: Inferno Metal Festival in Oslo, Hellfest in Clisson, Tuska Festival in Helsinki, BB King's in New York, The Avalon in Los Angeles, Metal Camp in Tolmin and Wacken Open Air.
In December 2014, Abbath tried to appropriate the group's name and logo, which was prevented by Demonaz and Horgh's lawyer, who demanded the division into equal parts. In his defence, the vocalist claimed that he thought that both had abandoned the band after deciding to take a break and stop paying for the rehearsal space and highlighted that Demonaz had not played the guitar since his injury and that Horgh played the drums. Abbath also stated that, as a professional musician, he depends on Immortal's earnings and that, due to his contract with Nuclear Blast, he should send the German record company a new studio album, which, according to him, would have been recorded with other musicians.
Finally, in March 2015, Abbath announced that he was no longer part of the band and would continue with his solo band. In August 2015, Demonaz and Horgh announced that they would continue with the band without Abbath and that they would be working on new material. At the end of 2016, the two members confirmed that they had finished composing a new album and would start recording in January 2017.
Current Members

Demonaz Doom Occulta (Harald Nævdal) – guitar (1990–1997, 2015–present), vocals (2015–present)
Horgh (Reidar Horghagen) – drums (1996–present)
Studio Albums
Diabolical Fullmoon Mysticism (1992)
Pure Holocaust (1993)
Battles in the North (1995)
Blizzard Beasts (1997)
At the Heart of Winter (1999)
Damned in Black (2000)
Sons of Northern Darkness (2002)
All Shall Fall (2009)
Northern Chaos Gods (2018)