Cradle of Filth
Cradle of Filth is an English symphonic black metal band from Suffolk, England, formed in 1991.
The band's musical style originally evolved from the more "produced" Black Metal of Gothic Metal, Symphonic Metal and other Extreme Metal genres. His lyrical themes and images are heavily influenced by the occult, vampirism, demonology, eroticism, mythology, Satanism and horror films.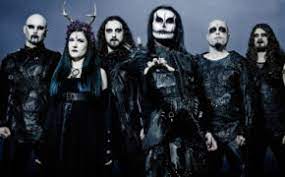 Daniel Lloyd Davey, better known as 'Dani Filth', during his high school years, was interested in the Heavy Metal scene and was influenced by listening to bands like Black Sabbath, Emperor, Venom, Slayer and especially Iron Maiden, and when he finished his studies At the end of 1991, he formed Cradle of Filth.
The initial line-up was Dani (vocals), John (bassist), Darren (drums), Robin (guitars), Paul Ryan (guitars) and Ben Ryan (keyboards). In 1992, the first demo, "Invoking the Unclean", was born. Due to Robin's poor performance on guitar, he left the band. "Orgiastic Pleasures" was the second demo recorded in 1993. This was more successful than the first, resulting in Cradle of Filth being offered a contract with Tombstone Records. However, due to certain problems with the band (it is necessary to clarify), the contract was not signed yet when John left to dedicate his career. Robin, the former guitarist, now joins Cradle as bassist, and the third demo, "Total Fucking Darkness", is recorded.
In 1994, Cradle of Filth signed with an independent record label, Cacophonous Records, with which they recorded their first album, "The Principle of Evil Made Flesh". This was released in April 1994 and sold 32,000 copies initially. In the album's liner notes, the band uses stage names such as "Nocturnal Pulse" for Robin and "Dark Immortal Scream" for Dani.
Just like the older bands of the style, they dressed and painted themselves in a characteristic way, with a strong gothic appeal. But the lyrics were a little different: instead of exploring themes such as Vikings and the occult, lyricist Dani's favourite themes are vampires and the legend of Elizabeth Bathory (who would have been a 16th-century European aristocrat who tortured and killed her servants, believing that by drinking their blood, it would preserve its beauty throughout eternity).
In 1995, the Ryan brothers left COF to start their own band, Blood Divine. They were replaced by Damien (keyboardist) and Stuart Anstis (guitarist).
Cradle of Filth's contract with the record label Cacophonous Records was broken, and in 1996, the EP V Empire (Or Dark Faerytales in Phallustein) was released, the last release with the label. Sarah Jezybel joins the band as a backing vocalist, and Paul Allender also decides to leave, replaced by Jared Demeter. In November 1996, they managed to change their label. The new home is now Music for Nations. Even before a new launch, another change in the lineup: the newly arrived Jared leaves, and Gyan Pyres joins.
The second album, "Dusk and Her Embrace", was produced by Kit Woolven (Cathedral, Thin Lizzy). It was produced over two months; the band was still with Cacophonus when they started preparing this album, but they had already decided to release it on another label due to problems with the old label. Special editions of this album are currently available, such as, for example, a digipack edition with some bonus tracks. In 2021, the album was chosen by Metal Hammer as the 4th best symphonic metal album of all time.
After a promotional tour, the band returns to the studio alongside producer Jan Peter Genkel (Therion) to record a new album. In 1997, keyboardist Damien left to pursue his career writing articles for a Heavy Metal magazine and Les 'Lector' Smith was replaced. Also, in the same year, Cradle of Filth performed across the USA at the Dynamo Open Festival and the Milwaukee Music Festival.
The following year, 1998, with the lineup stabilized, the band released their next album, "Cruelty and the Beast". The album's title refers to a phrase by the Prussian philosopher Friederich Nitzsche, which originally said: "There is no beast without cruelty". There is a special edition of this album, which comes with a bonus disc containing three new songs (one of them in a remix version) and two covers ("Hallowed Be Thy Name", by Iron Maiden and "Black Metal", by Venom). The album was promoted in shows across the planet, in countries such as the United States, Russia and Japan, increasing the number of fans. During this series of shows, they went to perform at the Vatican. Before the concert, they did a photo shoot, the setting of which would be the Holy City, using t-shirts on which the phrase "I love Satan" appeared. They were arrested for that but were released after paying bail before the concert.
In 2001, the band decided to change to the label Music for Nations record label. The EP "Bitter Suites to Succubi" was released by the new record label, Abracadaver, containing three re-recorded songs from the first album, a cover by The Sisters of Mercy and a video clip for the song "Born in a Burial Gown". In the middle of the year, another departure, this time of bassist Robin Graves, who left COF for personal reasons. Dave Pyrus (ex-Anathema) then came to his place. And to close the year, Cradle releases its first DVD, Heavy, Left-Handed and Candid.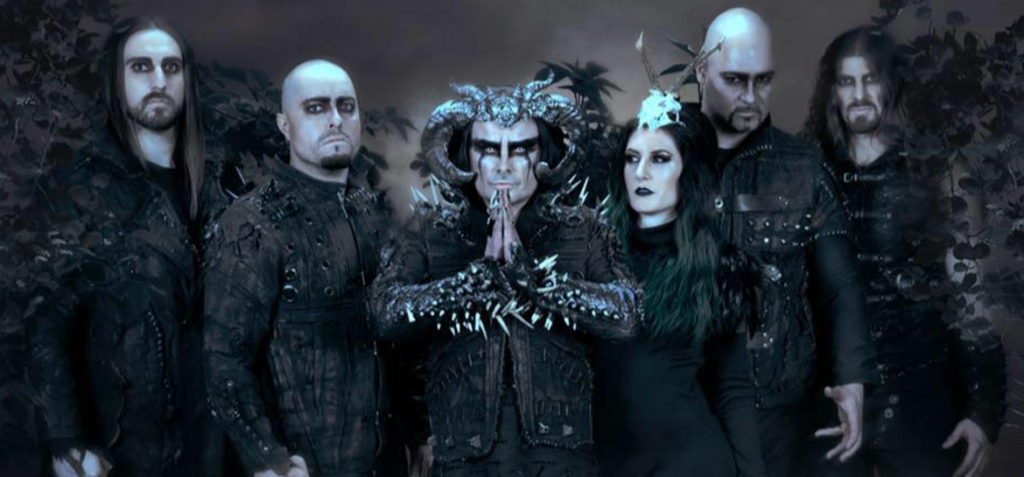 In 2002, Cradle of Filth signed with their new record label, Sony. In May, the band participates in Ozzfest-UK alongside the groups Slayer, Ozzy Osbourne, Tool and System of a Down.
During the year, a double Best Of, "Lovecraft and Witch Hearts", was released by his former record label Music for Nations, containing 24 tracks from the eras: "Dusk… and Her Embrace", "Cruelty and the Beast", "From the Cradle to Enslave" and Midian, as well as tracks that were only released in limited editions. In August, the first live album, Live Bait for the Dead, was released in England, recorded at Nottingham Rock City on April 14, 2001, and containing some more re-recorded and remixed songs by the band. In the same month, guitarist Gian Pyres, after having been in the group for 6 years, left it, claiming that he was not spending much time with his family.
In March 2003, the band released its fifth album, Damnation and a Day, a conceptual work that talks about the creation of angels until the devil's ascension before God. In the same year, they opened some Iron Maiden shows in Europe. Soon after, the band went on tour across Europe and North America and also participated again in Ozzyfest.
The same year, vocalist Dani Filth lent his voice to the cartoon Dominator. The film also features Doug Bradley, Mark & Lard and the song "Carrion" from the latest album. And, to end the year, a video for the song "Mannequin" was released.
Roadrunner Records

In 2004, the album "Nymphetamine" was released, which mixes sex and drugs (nymphomanic+amphetamine). In 2006, "Thornography" was launched in October 2008, and the album "Godspeed on the Devil's Thunder" was released.
The album is a conceptual work portraying the story of Gilles de Rais, a French nobleman who fought alongside Joan of Arc against the English and who would pass on to posterity for having kidnapped, raped and killed hundreds of boys.
The band went on a European tour with Gorgoroth, Moonspell, Septic Flesh and Asrai ("The Darkest Tour: Filthfest") in December 2008 and toured with Satyricon and Septic Flesh in January and February 2009. They will headline headlining Tomahawk Festival on March 28th and go on a European tour with Moonspell and Turisas, which will be called "Filthfest Tour 2009", in April and May 2009.
On 2 April 2014, Cradle of Filth's website announced they were working on their follow-up to "The Manticore and Other Horrors". Dani Filth announced that they expected a Spring 2015 release and that three songs had already been written.
"At the moment, all six members are working on material…. Everybody has contributed to this, from Lindsay, the keyboard player, Martin, the drummer – everybody has been working very hard. We have to get most of it done by the time we get to Russia, so we have two and a half weeks, and I have to finish the lyrics for a few songs, but the songs are pretty much there; we just have to move stuff around and put some strange instrumentation…. This album will be very twin guitar-driven, with lots of very fast melodies a la Dusk… and Her Embrace and Cruelty and the Beast. We are aiming at 16–20 tracks, then we will wheedle [sic] them down to make sure we have the best. It is very exciting."
 Dani Filth
Current activity
On 9 May 2022, the band announced that they had signed to Napalm Records.
Vocalist Dani Filth mentioned in August 2022 that the band had been working on a collaboration with musician Ed Sheeran since the previous year. Filth explained that Sheeran had begun recording his vocals for the collaboration but that Sheeran's touring schedule and the birth of his child caused delays. Sheeran's interest in collaboration with Cradle of Filth stems from listening to Metal bands like Cradle and Slipknot during his childhood.
In 2023, a music video was released for "She is a Fire". The song is one of two studio tracks from the "Existence is Futile" recording sessions to be included on the live album "Trouble and Their Double Lives", along with live tracks recorded during the band's Cryptoriana World Tour. "Trouble and Their Double Lives" was released on 28 April 2023. Shortly after the release of the live album, the band entered the studio to begin recording their fourteenth studio album.
Current Members
Dani Filth – lead vocals (1991–present)
Martin "Marthus" Škaroupka – drums, keyboards (2006–present)
Daniel Firth – bass (2012–present)
Marek "Ashok" Šmerda – guitars (2014–present)
Donny Burbage – guitars (2022–present)
Zoe Marie Federoff – keyboards, female vocals (2022–present)
Studio Albums
The Principle of Evil Made Flesh (1994)
Dusk… and Her Embrace (1996)
Cruelty and the Beast (1998)
Midian (2000)
Damnation and a Day (2003)
Nymphetamine (2004)
Thornography (2006)
Godspeed on the Devil's Thunder (2008)
Darkly, Darkly, Venus Aversa (2010)
The Manticore and Other Horrors (2012)
Hammer of the Witches (2015)
Cryptoriana – The Seductiveness of Decay (2017)
Existence Is Futile (2021)