Marduk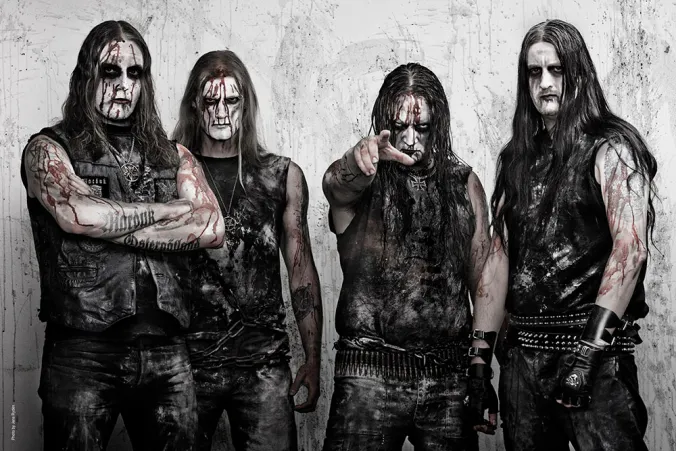 Marduk is a reference in Swedish black metal, one of the most famous
and first ones. The name of the band is a reference to the god of the
Assyrian religion. The band was formed in 1990 by Morgan Hakansson
and Rickard Kalm after the end of their previous band: "Abhor".
To begin, the band release their first demo, the famous "Fuck me, Jesus"
in 1991, it was an auto product by the band. There are five tracks, and it's black
metal with some influences of death metal. At the end of the same year,
the band recorded their second demo, named "Here's no Peace". This
one is more traditional black metal than the previous one, but still with
some small death metal influences.
In 1992, the band signed with the label "No Fashion Records" to publish
their first album called "Dark Endless". This album attracted the attention
of the french label "Osmose Productions" and then signed with Marduk
in 1993. The same year the band released its second album, named
"Those of the Unlight".This is the first album with any death metal
influences. Then the band does a European tour with "Immortal."
through to the label.
The next year, in 1994, the third album was out, "Opus Nocturne". And
just after, they're back for another Tour with "Enslaved". "Fuck me, Jesus"
was republished in 1995 by the label with the same album cover (a nun
masturbating with a crucifix), which has provoked controversy.
1996 is the year of the release of the album named "Heaven Shall
Burn… When we are Gathered". This album is even more brutal than the
previous ones; the name of this album is an inspiration from the song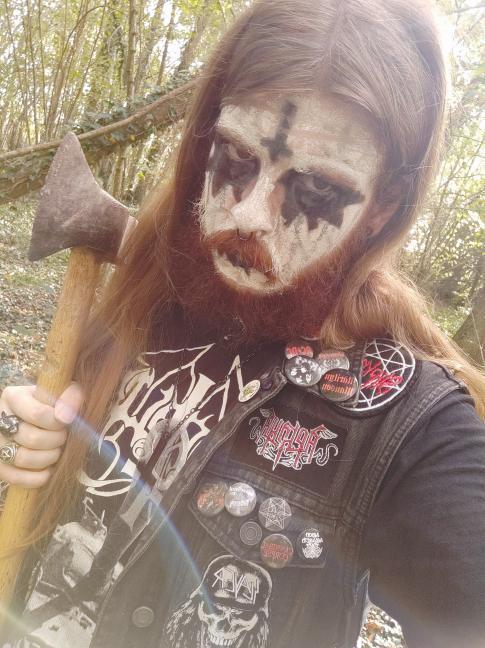 "Dies Irae" from the band "Bathory". The same year, the band released
an EP named "Glorification" it's mainly recoveries from other bands like
"Destruction" or "Bathory".
In 1997, the band dropped a live album and another EP. Once again the
EP has a few "Bathory" recoveries and a few old tracks unused.
A new year, a new album, so in 1998, "Nightwing" out the band's new album.
A pure concentration of hate and violence, the central theme
of this album is blood.
And then 1999 comes an important year for Marduk, the year of the
release of one of the most famous albums of the band "Panzer Division
Marduk". It's a pure concentration of hate and violence, too but themed
about war, mainly WW2.
For the new millennium, Marduk released a new EP called "Obedience."
and "Infernal Eternal", their second live album. And this year is the end
of the collaboration with the label "Osmose Productions", replaced by
"Bloddawn Productions", the label of "Morgan" (guitarist).
In 2001, "La Grande Danse Macabre" was out the third album of the
trilogy, with the two previous ones. This one was about death. The next
year, the first compilation was released, called "Blackcrowned".
The band kept up the momentum and released "World Funeral" in 2003.
Followed by "Plague Angel" in 2004, the ninth album. And by
"Deathmarch", another EP, the same year.
In 2006, after 15 years of the band, a new live album was released,
named "Warschau" (Warsaw in german).
2007 is the year of the release of "Rom 5:12", their new album. The
name of this album is a reference to the "Epistle of the Romans". It's a
comeback to the black metal dark and slows for this album, even if some
fast songs are still present.
Two years later, in 2009, "Wormwood" was out, still in the same way as
the previous one.
In 2012, the band changed its label to work with "Century Media
Records". And release "Serpent Sermon", their twelfth album.
Then comes "Frontschwein" in 2015 and "Viktoria" in 2018, the last
album, for now.
Marduk is a very famous black metal band with its own style and their
own themes. They released 14 studio albums in 23 years, and I'm
sure there will be more in the future.
DISCOGRAPHY :
● 1992 : Dark Endless
● 1993 : Those of the Unlight
● 1994 : Opus Nocturne
● 1996 : Heaven Shall Burn… When we are Gathered
● 1998 : Nightwing
● 1999 : Panzer Division Marduk
● 2001 : La Grande Danse Macabre
● 2003 : World Funeral
● 2004 : Plague Angel
● 2007 : Rom 5:12
● 2009 : Wormwood
● 2012 : Serpent Sermon
● 2015 : Frontschwein
● 2018 : Viktoria