Autopsy
Autopsy began their career by releasing the album "Severed Survival" in 1989. At this time, the band's sound was similar to the album "Scream Bloody Gore" by the band Death. The EP "Retribution for the Dead" marks an approach to Doom Metal.
The band was formed in Contra Costa County, California, in 1987 by Chris Reifert and Eric Cutler. The group disbanded in 1995 and reunited in 2009, and the first album was released in 1989.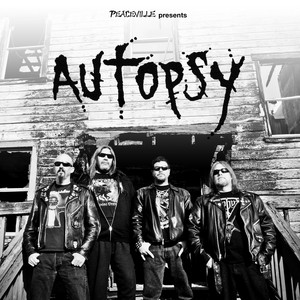 "Mental Funeral", the second album, was released in 1991. After this album, the band went on a European tour. Soon after, they entered the studio to record Fiend for Blood (EP).
In 1995, their last album, Shitfun, was released, which was closer to hardcore punk. Soon after, the band split up.
After the band's breakup, Chris Reifert and Danny Coralles focused on their project Abcess, a Death Metal/Punk band.
In 2005, they participated in the documentary Metal: A Headbanger's Journey.
In 2009, the band announced the return with the three original members and Joe Trevisano on bass. With this lineup, they recorded the EP The "Tomb Within" (2010) and the full album "Macabre Eternal" (2011).
In February 2012, the band released the compilation album "All Tomorrow's Funerals", which brings together all of the group's remastered EPs and four new songs. In the same year, Autopsy recorded a DVD entitled Born Undead, which contains the band's performances at festivals in 2010 and 2011 and includes a documentary about the band and some music videos.
In 2013 and 2014, the most recent albums were recorded: "The Headless Ritual" and Tourniquets, Hacksaws & Graves", respectively.
Along with fellow Possessed (Bay Area) and Reifert's previous group Death, Autopsy has been considered a pioneering band in the Death Metal genre. Early bands such as Entombed, Dismember, Gorefest, Immolation, Cannibal Corpse, and Deicide have all credited Autopsy as an influence in their sound. In addition, Autopsy has helped to pioneer Death-Doom.
Studio albums
Severed Survival (1989)
Mental Funeral (1991)
Acts of the Unspeakable (1992)
Shitfun (1995)
Macabre Eternal (2011)
The Headless Ritual (2013)
Tourniquets, Hacksaws and Graves (2014)
Morbidity Triumphant (2022)

EPs/Singles
Retribution for the Dead (1991)
Fiend for Blood (1991)
Horrific Obsession (2009)
The Tomb Within (2010)
Skull Grinder (2015)
Puncturing the Grotesque (2017)