Anvil
Anvil is a Canadian Heavy Metal band formed in Toronto, Ontario in 1978. Its current lineup consists of Steve "Lips" Kudlow (vocals, guitar), Robb Reiner (drums) and Chris Robertson (bass). The band has released fifteen studio albums and is cited as an important band in the Metal scene, influencing bands such as Megadeth, Slayer, Anthrax and Metallica.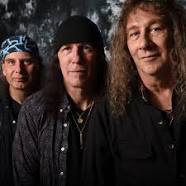 History
In April 1973, guitarist Steve "Lips" Kudlow and drummer Robb Reiner began playing together in Toronto. Only in 1978 were they joined by Dave Allison (guitar and vocals) and Ian Dickson (bass), who left soon after, giving way to Glenn Five (bass).
In 1981, they independently released the album "Hard 'N Heavy". They signed a contract with Attic Records shortly after, which re-released the album. The following year, the band released the album "Metal on Metal", and in 1983, it was the turn of "Forged in Fire." Two years later, the album "Backwaxed" was released. In 1987, after switching to Metal Blade Records, the band released "Strength Of Steel, "Pound for Pound" (1988) and "Past and Present" – Live in Concert (1989). In 1991, they changed record labels again, this time to Maximum Records. That same year, "Worth the Weight" was released.
Considered a promising band in the early 1980s, Anvil did not take off like their compatriots Rush. Despite remaining active over the years, the group's popularity declined in the 1990s. It was then that filmmaker Sacha Gervasi, a fan and former roadie of the band, had the idea of producing a documentary about Anvil, showing all the difficulty of the band to remain active in the mid-2000s.
Gervasi began production on the documentary in 2005, and in 2008, Anvil: The Story of Anvil was released. The video was acclaimed on the film and art festival circuit. The positive reception generated a second wave of success for the band, which went from small bars in Toronto to performing again at major festivals, such as Download Festival, Loud Park and Hellfest, and opening shows for AC/DC.
On February 14, 2020, Anvil released their 18th studio album, "Legal at Last", via AFM Records
Studio Albums
1981 – Hard 'n' Heavy
1982 – Metal on Metal
1983 – Forged in Fire
1987 – Strength of Steel
1988 – Pound for Pound
1992 – Worth the Weight
1996 – Plugged in Permanent
1997 – Absolutely no Alternative
1999 – Speed of Sound
2001 – Plenty of Power
2002 – Still going Strong
2004 – Back to the Basics
2007 – This is Thirteen
2011 – Juggernaut of Justice
2013 – Hope in Hell
2016 – Anvil Is Anvil
2018 – Pounding The Pavement
2020 – Legal at Last