Ministry
The band was formed in 1981 by Alain Jourgensen, the son of Cuban refugees.
Musically speaking, Ministry started synth-pop, being a pioneer of the style in the USA. After releasing some singles on the Wax Trax! Label: the band signed with a major record label (Arista Records) and released "With Sympathy". Despite being musically competent, the album did not have the same commercial success as its contemporaries, New Romantic (Depeche Mode, Eurythmics, Duran Duran, etc.). Jourgensen said, in an interview with Kerrang!, that the album was "not even worth stealing" and that it had been recorded under pressure from the record company.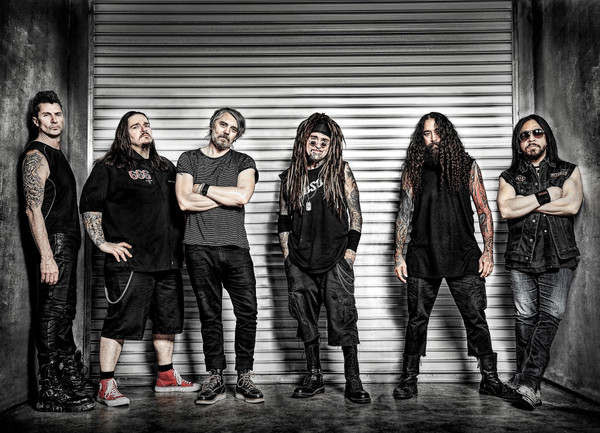 The following year, Ministry embarked on a European tour alongside Front 242; That's when the group's sound started to get heavier. Also, in 1984, Jourgensen listened to "People Are People" by Depeche Mode. This single had been produced by Adrian Sherwood, originally a Dub producer who had started producing industrial music bands. "People Are People" was pop, but all its "instrumentation" was made of found sounds: tubes, tools, etc.
With Sherwood on board, the "one-man band" released "Twitch", an album denser than their first releases, already featuring several samplers (a trend that would continue later). During the album tour, Jourgensen met Paul Barker, bassist for The Blackouts, and from then on, they forged a partnership that would last almost 20 years. In 1987, Jourgensen had a musical epiphany when he returned to playing guitar. "No one had ever played Thrash Metal with a drum machine," he said years later.
Jourgensen never commented on what had really inspired him to take such action; however, if we check the Wax Trax! catalogue, we see that this Chicago record label was responsible for releasing the Young Gods single "Envoyé" (1986) in the United States.
In 1988, with the addition of William Rieflin, the band recorded the influential "The Land of Rape and Honey", giving birth to Industrial Metal in one fell swoop. Almost ten years later, this album reached gold record in the USA.

"The Mind Is a Terrible Thing to Taste" follows a year later, even more "metallic" than the previous album. It was Ministry's second gold record, an achievement, without a doubt, for such caustic and aggressive music. After releasing the most successful album of their career -Psalm 69: The Way to Succeed and the Way to Suck Eggs – and some failures (Filth Pig, The Dark Side of the Spoon, etc.), Paul Barker leaves the band.
The album "Moral Hygiene" was chosen by Loudwire as the 34th best Rock/Metal album of 2021
Members
Al Jourgensen – vocals, guitar, bass (since 1981)
John Bechdel – keyboards (2006–2008, since 2011)
Sin Quirin – guitar, bass (2007–2008, since 2012)
Cesar Soto – guitar (since 2015)
Paul D'Amour – bass (since 2019)
Derek Abrams – drums (since 2017)
Studio Albums
1983 : With Sympathy
1986 : Twitch
1988 : The Land of Rape and Honey
1989 : The Mind is a Terrible Thing to Taste
1992 : Psalm 69: The Way to Succeed and the Way to Suck Eggs
1996 : Filth Pig
1999 : Dark Side of the Spoon
2003 : Animositisomina
2004 : Houses of the Molé
2006 : Rio Grande Blood
2007 : The Last Sucker
2012 : Relapse
2013 : From Beer to Eternity
2018 : AmeriKKKant
2021 : Moral Hygiene
2024 : Hopiumforthemasses