Celtic Frost
Celtic Frost was a metal band formed in Switzerland in 1982 under the name Hellhammer, which ended up changing its name to Celtic Frost in 1984 after the release of some demo tapes. They became very influential on the extreme metal scene of the 1980s and 1990s, mainly due to the release of their first two albums, "Morbid Tales" (1984) and "To Mega Therion" (1985).
Their third album, "Into the Pandemonium" (1987), presented new sound elements, being a reference for future gothic metal groups.
The band's first period took place between 1984 and 1993. After many years involved in other musical projects, vocalist/guitarist Tom G. Warrior and bassist Martin Eric Ain reformed the group in the 2000s and released the album "Monotheist" in 2006. In 2008, the band broke up again after musical differences and the departure of Tom, who now pursues his career in Triptykon.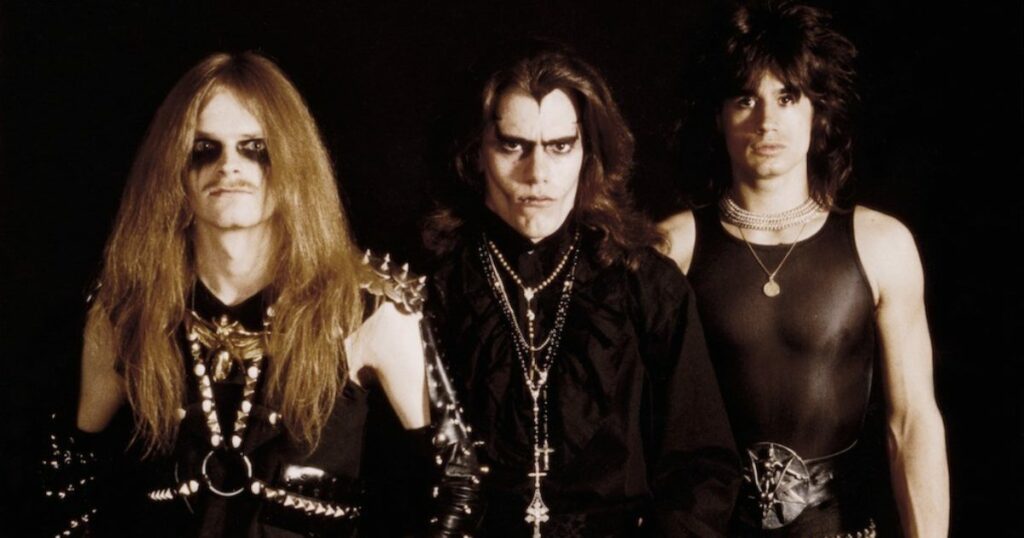 Celtic Frost recorded albums that permeate various musical styles, such as Thrash metal, Gothic metal, Avant-Garde metal, and Doom metal and are still considered pioneers of the first wave of black metal.
Celtic Frost was formed at the end of May 1984 by vocalist/guitarist Tom G. Warrior, bassist Martin Eric Ain (two former members of Hellhammer) and drummer Isaac Darso. A few weeks after formation, Darso left the band and was replaced by Stephen Priestly (who was previously also part of Hellhammer).
In 1984, they recorded their first album, "Morbid Tales", which continued the sound presented by Hellhammer: harsh vocals (Tom G.'s trademark), alternation between the speed and cadence of the rhythm, and lyrics focusing on death and the occult. The mini-LP, which would become one of Death Metal's foundations, achieved great success in the underground metal scene and allowed the band to undertake its first tour in Germany and Austria. At the end of the same year, they hired American drummer Reed St. Mark.
In August 1985, the EP "Emperor's Return" was published. These first two Celtic Frost recordings were later re-released on a single CD.
In October, one of the band's and the genre's most influential albums, "To Mega Therion", was released. Maintaining the dark, direct, raw and extreme atmosphere of "Morbid Tales", the album was well played, well produced, original, brought new ideas and showed that the Black/Thrash Metal practised by them would create a new musical aspect, inspiring countless bands around the world. The album was recorded with Dominic Steiner on bass, as Martin Eric Ain had left temporarily but would return shortly after release. The cover of "To Mega Therion" was designed by Swiss artist H. R. Giger, who later collaborated with the band to direct the video "A Dying God Coming Into Human Flesh" and design Tom G. Warrior's guitar.
They released their second EP, "Tragic Serenades" the following year.

At the end of 2001, Warrior and Ain began writing songs together again, with Unala as guitarist, and since the end of 2002, with the experienced Swiss drummer Franco Sesa. The goal was to develop and record a new, darker, heavier album. The making of the album was delayed longer than expected (partly due to the project's finances), but finally, in 2005, the recording was completed, which Warrior and Ain described as "the most obscure album Celtic Frost has ever recorded", now approaching Doom /Gothic metal.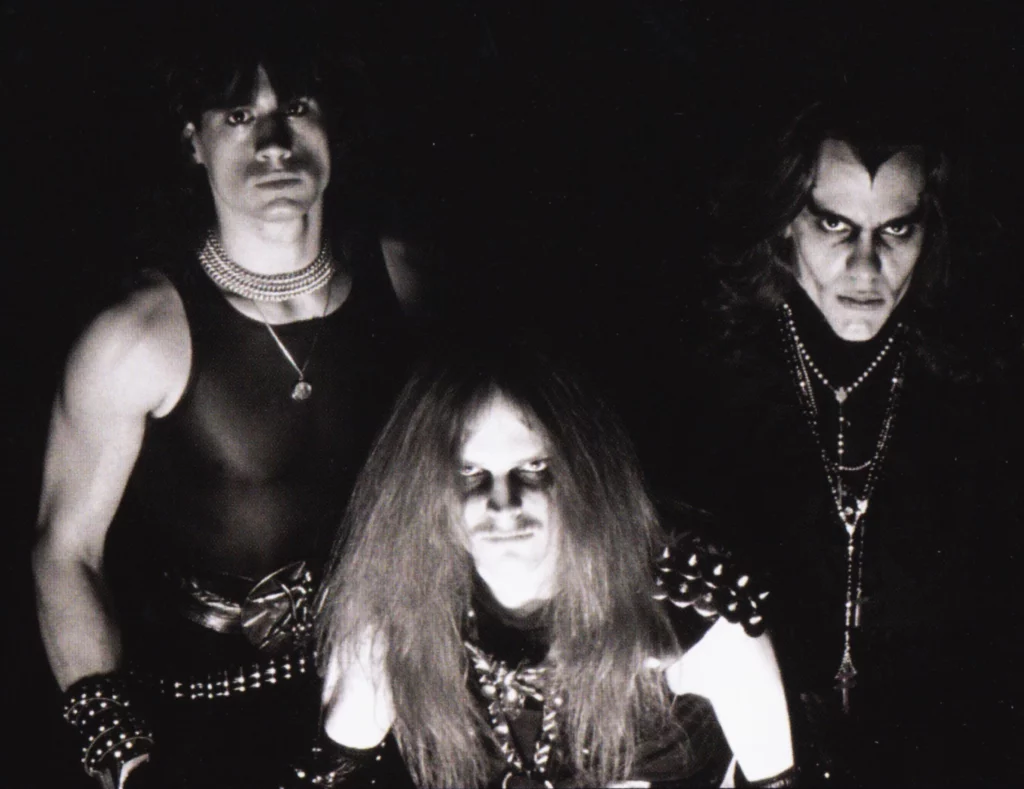 Celtic Frost in Portland in 2006.
The band themselves financed Celtic Frost's sixth studio album through their own label, "Prowling Death Records", and printed by Diktatur des Kapitals. Prowling Death Records was originally created as an underground label that published Hellhammer demos between 1983 and 1984. The album was produced by Celtic Frost and Peter Tägtgren (musician of the bands Bloodbath/Hypocrisy/Pain) and mixed by Fischer and Ain. The album, titled "Monotheist", was released on May 30, 2006.
On May 29, 2006, Celtic Frost embarked on the most extensive tour in their history, the "Monotheist Tour", initially headlining festivals (such as Wacken Open Air, before 50,000 people) in Europe, North America in 2006, and the band's first concert in Japan in January 2007. In early 2007, the first part of the European tour took place, and they returned to the United States as special guests of Type O Negative.
At concerts, Celtic Frost played with an additional guitarist. This position was initially occupied by Anders Odden (Cadaver, Apoptygma Berzerk) and later by V Santura (from Dark Fortress).
Definitive end of the band (2008)

With Warrior's departure in 2008, the band ceased activities again. He states:

"There are many things we cannot say with an air of definition, but this I can. I have absolutely no interest in returning to Celtic Frost again. When I did this last time, I put a huge amount of money, energy and time into it. I hoped other people would do the same. But unfortunately, I was betrayed and stabbed in the back. Without being with people I can trust, I will no longer make this kind of effort. As much as I love Celtic Frost's music, I can't do this anymore. On the other hand, I formed Triptykon to sound as close as possible to what we did. The biggest differences are human, not musical."
"
Tom then formed his new project, Triptykon, continuing with his work featured on Monotheist. Martin Eric Ain passed away on October 21, 2017, from a heart attack.
They were an influence on many bands:
Celtic Frost influenced important black, death, thrash, and heavy metal bands. The band Therion, for example, was named after the album "To MegaTherion".Other groups have cited Celtic Frost as an influence and have covered their songs, such as Melvins, Enslaved, Opeth, Marduk, Opera IX, Evoken, Nile, Amorphis, Stormtroopers of Death, Paradise Lost, Anathema, Nirvana, HIM, Dimmu Borgir, The Gathering, Akercocke, Sarcophagus, Sepultura, Samael, Astarte, Vader, Tiamat, Emperor, Cradle of Filth, Mayhem, My Dying Bride, Darkthrone, Satyricon, High on Fire, Nokturnal Mortum, Obituary, Gorgoroth, 1349, and many others. Dave Grohl (ex-Nirvana, Foo Fighters) has stated several times that Celtic Frost was an important influence on him. He later invited singer Tom G. Warrior to participate in the recordings of his solo project, Probot, co-writing the song "Big Sky".
In 1996, Dwell Records released In Memory of Celtic Frost, a collection of songs covered by other bands. Notable bands appear on this tribute album, including Enslaved, who covered "Procreation (of the Wicked)"; Opeth, who covered the song "Circle of the Tyrants"; Swedish Death Metal band Grave, re-recording "Mesmerized"; Canadian Thrash metal band Slaughter, re-recording "Dethroned Emperor"; Apollyon Sun (as Tom G. Warrior himself), re-recording "Babylon Fell"; and Norwegian black metal bands Emperor, who covered "Massacra", and Mayhem, covering "Visual Aggression". The tribute album also features reinterpretations of Celtic Frost songs by less famous metal bands. The CD, difficult to find, is now out of print.
Studio albums
Morbid Tales (EP 1984, re-released in 1999)
To Mega Therion (LP 1985, re-released in 1999)
Into the Pandemonium (LP 1987, re-released in 1999)
Cold Lake (LP 1988)
Vanity/Nemesis (LP 1990, re-released in 1999)
Monotheist (LP 2006) – US Ind #43, US Heat #37

EPs
Emperor's Return (1985, re-released as part of Morbid Tales in 1999)
Tragic Serenades (1986, re-released as part of To Mega Therion in 1999)
I Won't Dance (1987)

Singles
"Wine in My Hand" (Germany 1990)