Peste Noire
Peste Noire ("Black Death" in French), also known as P.N. or K.P.N. (Kommando Peste Noire), is a Black Metal band from La Chaise-Dieu, originally from Avignon. The band plays traditional Black Metal with some influences from Gaelic music.

Peste Noire was formed in 2000 by La Sale Famine de Valfunde (the main composer) under the name "Dor Daedeloth", a name taken from a fictional region in the Lord of the Rings world.
La sale famine de Valfunde, then known under the pseudonym Feu Cruel or simply "Famine", with the support of Neige d'Alcest on drums and later Argoth, who contributed to Alcest as bassist.
Shortly after releasing the demo "Aryan Supremacy", the band "Dor Daedeloth" changed its name to Peste Noire.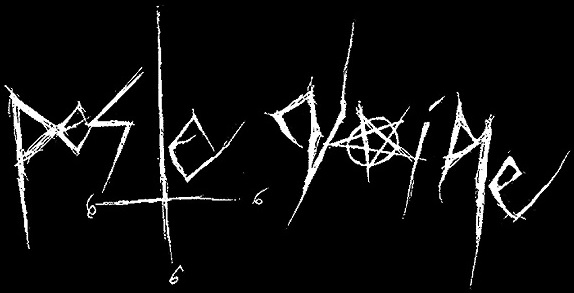 The duo Famine and Neige produced five demo cassettes.
It was with "Macabre Transcendence", which obtained great success in 2002, that they really began to get noticed.
At the beginning of the 2000s, Alcest and Peste Noire were made up of the same members, including bassist Argoth (from 2001 to 2002). In 2001, under the pseudonym Aegnor, Famine played lead guitar on Alcest's "Winter Tristesse demo", composing the main riff of the title "La Forêt de cristal".
Peste Noire primarily explores themes related to medieval and contemporary France, with lyrics oscillating between classical poetry to vulgar language and street slang and they even used poems by François Villon and Charles Baudelaire in their lyrics. In addition to numerous unofficial recordings, the group has released six studio albums, the last three of which were on Famine's own label, La Mesnie Herlequin.

The third album, "Ballade cuntre lo anemi Francor", was published in March 2009. The group's lineup was disrupted with the replacement of Neige, Indria and Winterhalter by Ragondin and Andy Julia.
The band is often accused of being racist and fascist, which was denied by Famine de Valfunde, who calls himself a right-wing anarchist, in addition to denying the frequent cults of Satan present in the Black Metal scene.
Neige made a statement explaining that he participated in the project solely as a musician and Famine said in an interview that they all lived in the same small town and were bound to cross each other, and they ended up playing music together but Neige had other aspirations regarding music style.

Neige said.
"I never was involved in any way with any political, racist or xenophobic ideologies. I was just a musician in Peste Noire, most of the time a session musician; I never took part in the lyrics or philosophy of the band. At the "Aryan Supremacy" period, I was 15 years old, and I didn't think about the consequence of recording some music with that band; it always was just musical participation for me. Alcest has NOTHING to do with any hate-based philosophy like racism, and as a person, I am absolutely NOT into nazism, racism and such ideologies."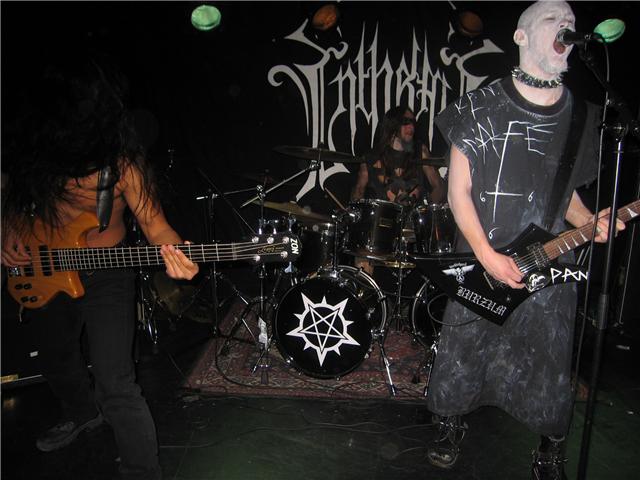 Famine said in an Interview with "Le Scribe du Rock"
"We lived in the same small town where nothing was happening, so we quickly came across each other. At first, there was only Alcest. Neige was in a black forest / Scandinavian trip, and I wanted to sound French, dirty, raw, less sublime and more hateful, with a marked political dimension, so the split was made naturally but without conflict since he played the drums on all the demos."
You can see the full interview in English here
https://www.webzinelescribedurock.com/2019/09/english-version-interview-with-famine.html
Among all the Peste Noire albums, "L'ordure à l'état pur" ("Garbage in its purest state", with a "jeux de mot", playing with words to say the government is pure garbage) benefited from professional recording and subtle production from August 2010 to January 2011 at Green Studio in Engwar. The album cover is a parody of the painting "Liberty Leading the People" by Eugène Delacroix where the allegory of Liberty seems necrotic, where the towers of Notre Dame Cathedral become the twin towers of the World Trade Center and Gavroche is endowed with a pig's head, which induces a new French Revolution with different protagonists and different stakes.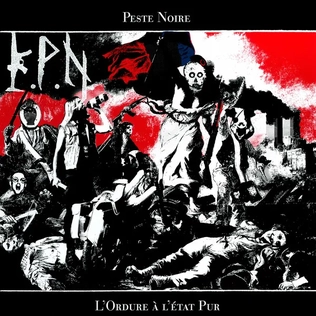 Many guests enrich the album's compositions, notably trombone, accordion and cello players. The music of Peste Noire became ever more chaotic and, at the same time, eclectic: samples from television news, documentaries or even BDSM sound extracts, ska punk or musette tunes, Eurodance beats, invectives in Occitan, acoustic passages on the spinet des Vosges, clear or growled songs, male and female, follow one another in a way that may require several listens to get into the disc.
The lyrics, sometimes in a "grand-guignolesque" style or written in a more serious tone in verse, deal with current social and political issues in France and are harbingers of the coming "civil war".
"L'ordure à l'état pur"(Garbage, in its purest state) receives the plebiscite members of the very popular VS-webzine, who ranked this album in the top 3 of the "French Album of the Year 2011" referendum.
In April 2012, via his label La Mesnie Herlequin, Famine released a box set including two CDs entitled Les Démos, which brought together all the group's songs written between 2001 and 2005, including pieces from the Valfunde project. In August 2012, La Mesnie Herlequin reissued the third album, "Ballade cuntre lo anemi Francor", on CD with a new cover.
Members and participant musicians:
Since 2000, La Sale Famine de Valfunde has been the main member of Peste Noire. He mainly performs vocals and guitars.
At the start of PN, he occasionally played bass, notably on the track Phalenes and Pestilence on La Sanie des siècle, Panégyrique de la dégénération (2006).
Recently, he played bass on the entire albums Peste Noire (2013) and La Chaise-Dyable (2015).
He is the composer of all the metal tracks of Peste Noire, except "La Césarienne", and writes most of the lyrics, except when borrowed from authors. (Verlaine, etc.)
Audrey Sylvain (aka Sainte Audrey-Yolande de la Molteverge) has been singing on all PN albums since "Ballade cuntre lo anemi Francor" (2009). She also performed the interludes on piano and Hammond organ on this album.
Drummer Andy Julia and bassist Ragondin also play on "Ballade cuntre lo anemi Francor"; this was their only participation in the group.
From 2001 to 2002, Argoth played bass on the demos "Aryan Supremacy, Mémoire païenne" and "Macabre Transcendence…" From 2001 to 2005, Neige played the role of drummer on the demos.
In 2006, he made a guest vocal appearance on the short version of "Dueil Angoisseus" on the album "La Sanie des Siècles – Panegyric of Degeneration". From 2007 to 2008, he was also a rhythm guitarist in the live band Peste Noire.
In the studio with Peste Noire, Neige only played the second guitar on the title "La Césarienne" on Folkfuck Folie (2007); this title is also the only composition by Neige in the entire history of the group.
Present from 2006 to 2008, Indria played bass, and Winterhalter played drums, on La Sanie des siècle — Panegyrique de la dégénération and on Folkfuck Folie. They were also part of Peste Noire's "live" lineup from 2007 to 2008. Indria made a notable appearance again on L'Ordure à l'état pure in 2011.
The members of Peste Noire are involved in other musical projects: in 2007, Famine created the "Valfunde project" for an EP, a melancholic rock with a drum machine close to gothic music.
In September 2013, Famine appeared on the album 8 ½ – Feberdrömmar Vaket Tillstånd by the Swedish band Shining.
He performed the vocals on "Terres des Anonymes", a French version of the title "Fields of Faceless "(from the album III – Angst – Självdestruktivitetens emissaries).
Uniting musicians who played in Peste Noire and Alcest (who joined Alcest respectively, in 2009 and 2010), the ex-PN Winterhalter and Indria, Neige founded the ephemeral group Amesœurs, of which Audrey Sylvain was the singer.
Amesœurs released a single album, eponymous, in 2009.
In 2013, following Famine's exile to Auvergne, the local drummer, Ardraos (Sünhopfer, Christicide), also an accordionist, became a permanent group member. He plays on Peste noire (2013), La Chaise-Dyable (2015) and Peste Noire — Split — Peste Noire (2018).
In 2018, the singer of the Finnish band Horna, Spellgoth, joined Peste noire as a keyboardist while drummer Ardraos left the group.

Studio Albums
La Sanie des siècles – Panégyrique de la dégénérescence (2006)
Folkfuck Folie (2007)
Ballade cuntre lo Anemi francor (2009)
L'ordure à l'état pur (2011)
Peste Noire (2013)
La Chaise-Dyable (2015)