Destruction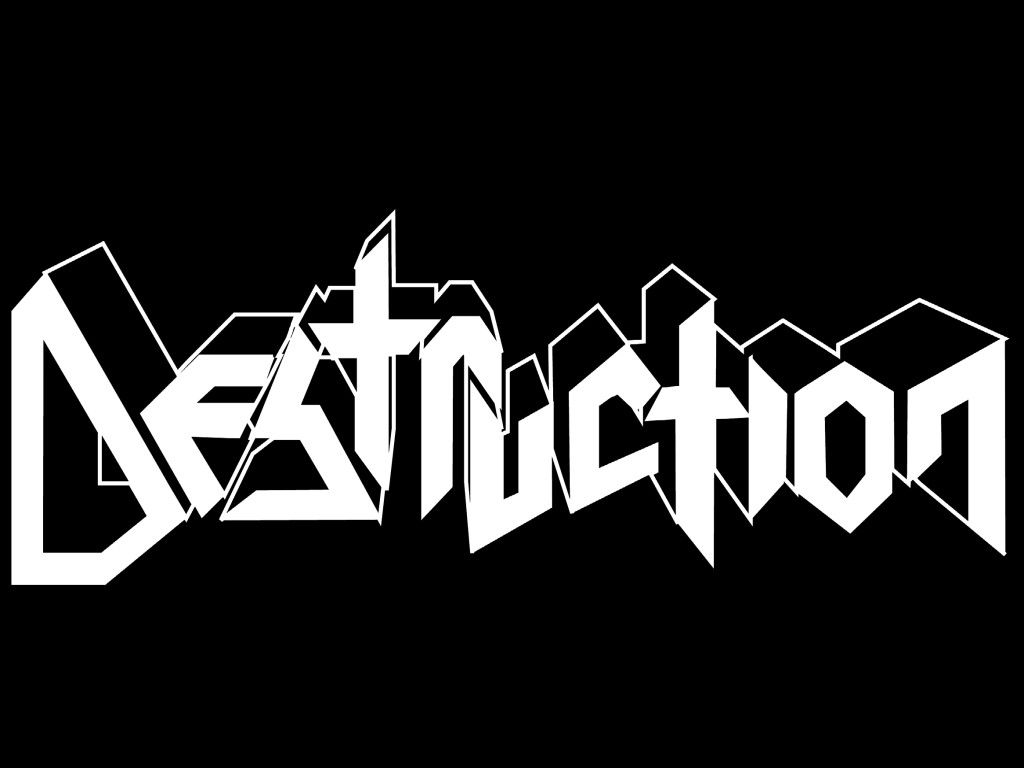 Destruction is a German thrash metal band formed in 1982 by vocalist and bassist Marcel Schirmer, guitarist Mike Sifringer and drummer Tommy Sandmann in a small town called Weil am Rhein. Together with their countrymen from Sodom, Tankard and Kreator they form the "Big 4 of German Thrash". Over a thirty year career, Destruction released twelve studio albums, among them the classics Sentence of Death, Infernal Overkill, Eternal Devastation and Release from Agony, and came to strongly influence the European and American extreme metal scenes. They were one of the first to insert synthesized guitars into heavy metal, and have as mascot the famous Mad Butcher, present on the cover of most of their albums.
A banda alcançou sucesso no mercado fonográfico logo no início da sua carreira. Em apenas um ano, tiveram um contrato com a editora SPV e o seu primeiro álbum nas lojas, Infernal Overkill.
Nessa altura, eram considerados um dos maiores grupos de thrash metal da Europa. O seu segundo álbum consolidou esta posição – Eternal Devastation foi lançado em 1986 e valeu-lhes uma digressão com o também alemão Kreator. Pouco depois, a primeira baixa, Tommy Sandmann partiu e foi substituído por Olly.
Destruição no Rockharz Open Air 2014
Aclamado como o seu melhor trabalho até agora, Mad Butcher atingiu as lojas em 1987. Após uma digressão bem sucedida pelos Estados Unidos e Europa, o grupo começou a mostrar sinais de problemas. O álbum seguinte, Release From Agony, atreveu-se a acrescentar novas influências, o que deixou os fãs insatisfeitos, mas apesar das críticas, os fãs acostumaram-se ao álbum e tiveram-no como um dos melhores da carreira da banda. O grupo lançou um álbum ao vivo, Live Without Sense, gravado na digressão Release From Agony.
Em 1989, Schmier decide deixar a banda e depois entra como vocalista Andre Grieder (ex-Potergeist) para a gravação do álbum Cracked Brain, lançado em 1990. Mike decide continuar a lançar álbuns sob o apelido "Neo-Destruction". Para este fim, o novo vocalista Thomas Rosenmerkel e o contrabaixista Christian Engler foram chamados. Mais tarde, Michael Piranio entra para a banda como segundo guitarrista. Durante este período, são lançados 3 álbuns, entre eles The Least Success Human Cannonball, que nem sequer são considerados discos oficiais da banda.
Por volta de 1999, Schmier pensou que era uma boa altura para regressar a Destruction e trouxe o baterista Sven Vormann consigo. Em 2000, foi lançado o tão aguardado All Hell Breaks Loose. O grupo voltou oficialmente a ser uma das melhores bandas de thrash metal com os seguintes álbuns, The Antichrist (2001) e Metal Discharge (2003). 2005 viu o lançamento do excelente Inventor Of Evil, que foi altamente aclamado pelos fãs e conta com participações de Biff Byford (Saxão), Doro Pesch, Shagrath (Dimmu Borgir), Björn "Speed" Strid (Soilwork), Paul Di'Anno, Messias Marcolin (Candlemass), Mark Osegueda (Anjo da Morte), Peter "Peavy" Wagner (Rage), e Peter Tägtgren (Hipocrisia, Dor), todos na pista "A Aliança de Hellhoundz". Em 2007, no 25º aniversário da banda, eles regravaram várias das suas canções clássicas e lançaram-nas no álbum intitulado Thrash Anthems. Em 2008 foi lançado o D.E.V.O.L.U.T.I.O.N, também para grande aclamação. Mais recentemente, em 2011, lançaram o álbum Day of Reckoning, e foram para a estrada pela Europa como parte do "Thrashfest Classics" ao lado das bandas Sepultura, Exodus, Heathen e Mortal Sin. Entre o final de 2011 e 2012, realizaram 3 espectáculos no Brasil, nas cidades de Curitiba, São Paulo e São Luís (Metal Open Air). Também em 2012 foi anunciado outro álbum do trio germânico, Spiritual Genocide, um álbum lançado a 23 de Novembro através da Nuclear Blast Records.
Em Setembro de 2013 Destruction voltou ao Brasil para actuar no Piauiense Capital Teresina e na quinta edição do festival Rock in Rio partilhando palco com os brasileiros de Krisiun que juntos tocaram a música Venom "Black Metal"No ano seguinte o trio alemão passou mais uma vez pelo Brasil, tocando espectáculos em oito cidades em Novembro e Dezembro.
Durante Maio e Junho de 2015, Destruction actuou numa digressão americana de mais de 20 espectáculos ao lado dos brasileiros do Sepultura.
Em Agosto de 2019 é lançado o álbum Born To Perish, gravado entre Janeiro e Fevereiro do mesmo ano no Little Creek Studios na Suíça.