Agalloch
Agalloch was an American Metal band that mixed styles such as Folk Metal, Doom Metal, Progressive Metal, Black Metal, Post-Rock and Neofolk. The band was formed in 1995 in Portland, and its members disbanded in 2016.

Agalloch was formed by John Haughm and Shane Breyer in Portland, Oregon, USA, in 1995, following the disintegration of the former band Aeolachrymae. At the beginning of 1996, the duo began producing songs, and after Don Anderson joined the band in the same year, they improved the material they already had. In the second half of 1996, they recorded the demo From Which of This Oak. Shortly after recording, Jason William Walton joined the group.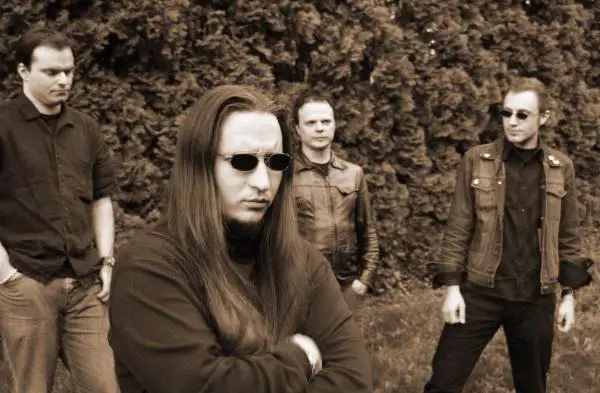 Consolidation and Pale Folklore
The band began recording and distributing demos to record labels in 1998 when they caught the attention of The End Records, who produced their first full-length in 1999, called "Pale Folklore".
Of Stone, Wind and Pillor and The Mantle
After three years of hiatus, the band released an EP titled "Of Stone, Wind and Pillor" in 2001. The initial purpose was to release a vinyl album in 1998 on the Iron Fist label. Still, it ended up being released by The End in 2001 with the songs not released on the first album and two additional tracks: a cover of the song "Kneel To The Cross" by the band Sol Invictus and "A Poem By Yeats". The EP was limited to 2500 copies.
Between 2001 and 2002, Agalloch recorded "The Mantle".
"The Mantle" exhibited an improvement in production with more detailed arrangements and greater quality, mainly due to the use of a larger budget than on their first album.
End
In May 2016, the band announced the end of activities through its official Facebook.
Return
In April 2023, the band revealed plans to play at Prophecy Fest in September 2023.
Members
2023 Reunion line-up
John Haughm − vocals, guitar, drums (formerly of Sculptured, Pillorian) (1995–2016, 2023)
Don Anderson − guitar, keyboards (Sculptured, Nothing, formerly of Darling, formerly of Necropolis) (1996–2016, 2023)
Jason William Walton − bass guitar (Especially Likely Sloth, formerly of Subterranean Masquerade, Sculptured, Nothing, formerly of Susurrus Inanis) (1997–2016, 2023)
Hunter Ginn − drums (Sculptured, Canvas Solaris, Fool's Game) (2023–Present)
Studio Albums
Pale Folklore (1999)
The Mantle (2002)
Ashes Against the Grain (2006)
Marrow of the Spirit (2010)
The Serpent & the Sphere (2014)
From Which of This Oak (1997)
Promo 1998 (1998)
Of Stone, Wind and Pillor (The End Records, 2001)
Tomorrow Will Never Come (The End Records, 2003)
The Grey (Vendlus Records, 2004)
Agalloch / Nest (The End Records, 2004)
The White (Vendlus, 2008)
Faustian Echoes (Dämmerung Arts, 2012)