SoaD
System Of A Down (a.k.a. SOAD) is an Armenian-American nu-metal band formed in 1994 in Glendale, California. Although they are catalogued as Nu metal, -due to the hybridization of genres that they've come to create- one may argue they are more of their own genre. All members of the band are either Armenian or of Armenian descent. The quartet are globally renowned and has made a total of five studio albums with great commercial success.
System Of a Down wasn't formed until 1994, but the members of the band had studied at the same school as children: Rose and Alex Pilibos Armenian School. This school had an impact on them after a less-than-idyllic experience that left an imprint on their emotional development. Guitarist Daron Malakian has said he still suffers nightmares relating to his own experiences there. The first time the founding members (Daron Malakian and Serj Tankian) met was at a recording studio in 1992 while they were working on different projects. This led to them creating their first project together, which they'd named Soil and would last until 1994. In this period, Shavo Odadjian also joined them first as manager and later on as bassist.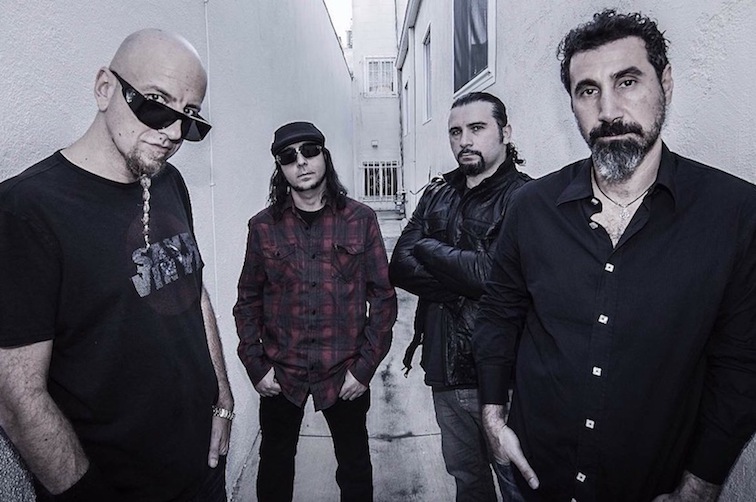 After Soil split up, Tankian, Malakian and Odadajian decided to create a new project, which would eventually be named System Of A Down (originally Victims Of A Down, a poem by Malakian). In this first period, they recruited the drummer Ontronik "Andy" Khachaturian (an old school friend), who would later become a DJ/producer and also the founder of The Apex Theory. By 1995, they were putting out demos and playing live shows in LA and its surroundings, and by 1997, Khachaturian had left the band and was replaced by John Dolmayan (forming the final composition of the band). This same year, they were spotted by producer Rick Ruben, who took into his own hands the recording and production of their debut self-titled studio album, the beginning of their breakthrough into moderate commercial success (having their singles 'Spiders' and 'Sugar' air on MTV, opening for Slayer and Metallica, touring with Fear Factory and Incubus, etc).
But, SOAD's big break would come from their second album, Toxicity (2001), which debuted at #1 on the American and Canadian charts. The album has gone 3x Multi-Platinum and was the push they needed to get into the mainstream of metal music. They managed to go on tour with Slipknot throughout the USA and Rammstein in Europe. B-sides of the album were leaked on the internet but were not finished versions. The fans called these songs Toxicity II, but SOAD would announce the release of their next studio album, which included all of these songs properly arranged, recorded and mixed. This would be Steal This Album! (2002), a reference to Abbie Hoffmans' Steal This Book.
They prepared their double album Mesmerize & Hypnotize for the following years, which had very good commercial success. Malakians' father designed the artwork of both albums. Singles from these albums include 'B.Y.O.B.' or 'Lonely Day' (which was nominated in the Grammys for Best Hard Rock Performance but lost to Wolmother's 'Woman'). Nevertheless, both of these albums debuted at #1 on the charts, making SOAD the only band to debut two albums at #1 in the same year (only done previously by The Beatles, Tupac and DMX).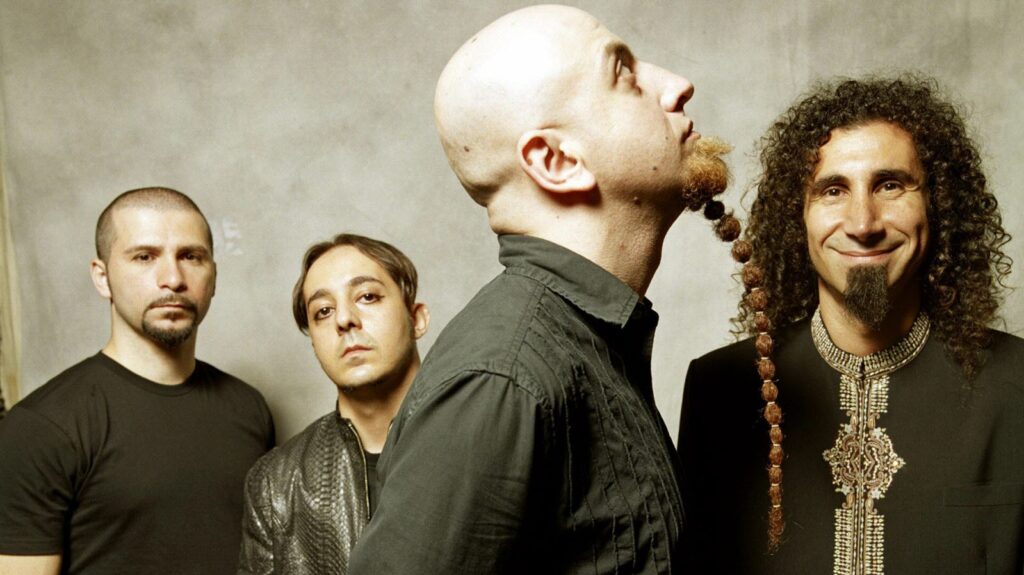 In 2006, after a decade of intense music creation and success, the band decided to part ways temporarily, beginning an undefined hiatus. By 2010 SOAD reunited and started touring again. But it wasn't until 2020 that they published their first songs in over 14 years in response to the 2020 Nagorno-Karabakh war: 'Protect the Land' and 'Genocidal Humanoidz'. The proceeds went to the Armenian Fund.
The sound SOAD has created is very particular and has not been imitated in any way by any other band (except for their side project Scars on Broadway). They have self handedly redefined the boundaries of metal music, pushing them to a point where they fuse metal with an ethnical sound, the same way Sepultura did with their album Roots (1996). Though this use of mixing metal music with other genres such as armenian folk and traditional armenian melodies and alternative rock is something very relatable to Nu metal, they have also got elements in their music that don't fit the mold (use of guitar solos and political lyrics are two of the most common examples used to argue them not being Nu metal). In Malakian's own words:
"We don't belong to any one scene (…) I don't like the nu-metal drop-A 7-string guitar sound; it is not my thing, at least not yet. (…) People always seem to feel the need to put us into a category, but we just don't fit into any category"
There is a lot of truth in his words, it is very difficult to place them in a category because of their use of diverse elements from many styles (from thrash metal to alternative rock and most importantly their eastern influence). This being said, most bands are never truly comfortable with how they are labeled (take the big four of grunge, or most of the Nu metal scene; they will, for the most part, disagree with their given label), there for, SOAD includes Nu metal elements in their music, but most importantly have been part of the wave of Nu metal, which they rode to the end. Thanks to Nu metal and the community of young metal consumers that grew in the 90s, bands such as SOAD, Korn or Deftones became the world known acts they are. So, even though they want to separate themselves from the music, they will always be part of the community.
DISCOGRAPHY
System of a Down (1998)
Toxicity (2001)
Steal This Album! (2002)
Mesmerize (2005)
Hypnotize (2005)