Ratt
Ratt is an American Glam metal Band that was highly successful in 1980, formed in San Diego, California, in 1976.
Inspired by Kiss, New York Dolls, Judas Priest, Led Zeppelin and Van Halen, they began in 1976 with the name Mickey Ratt (changing to Ratt in 1983). In 1992, they disbanded, interrupting their activities. They returned in 1997 and have continued performing since then despite a legal dispute over using the band's name.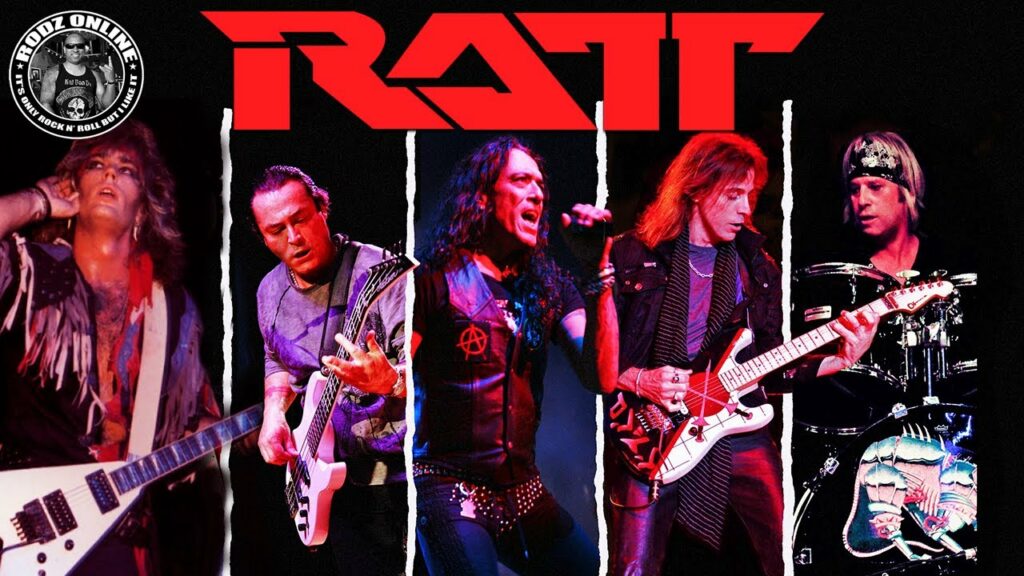 Its lineup included Stephen Pearcy on vocals, Robbin Crosby and Warren De Martini on guitars, Juan Croucier on bass and Bobby Blotzer on drums.
In 1983, the band released their first independent, self-titled EP, and it was this EP that aroused the interest of Atlantic Records, which released the album Out of the Cellar in 1984. On the tour for this album, Ratt played 320 shows in 14 months. The album contained the track "Round and Round", which appeared in the electronic games Guitar Hero Encore: Rocks the 80s and Grand Theft Auto Vice City Stories and could be heard on the game's own V-ROCK radio.
The next album, "Invasion of Your Privacy", did not achieve the same sales as the previous album. They went on tour with Bon Jovi opening. The next album came out in 1986 under the title Dancing Undercover. In 1988, Reach for the Sky came out.
In 1990, they launched Detonator. 1991, the compilation album Ratt & Roll 81-91 was released. At this time, Robbin Crosby left the band. In 1992, Stephen Pearcy also left and formed the band Arcade and later Vertex. Both went on to release albums.
In 1997 Pearcy returned to the band, and Ratt released the album Collage. In 1999, they released another self-titled album. After these two works, Stephen Pearcy left Ratt again and began to fight in court against the other members over the name Ratt.
Even without Pearcy, Ratt continues with a different lineup that features Jizzy Pearl (ex-Love/Hate) on vocals, John Corabi (ex-Mötley Crüe singer) on guitar, Robbie Crane on bass, as well as Warren De Martini and Bobby Blotzer.
In 2002, Robbin Crosby died in his Hollywood apartment. The same year, Stephen Pearcy lost the right to the name Ratt, which ended up going to Bobby Blotzer and Warren De Martini. Still, in 2002, the band went on tour alongside Warrant, Dokken, Slaughter and L.A. Guns. In 2007, Pearcy returned to Ratt, and the band went on tour.
Current Members

Stephen Pearcy – vocals (1976-1992,1996-2000,2006-2014,2016-present)
Warren DeMartini – guitar (1981-1992,1996-2014,2016-present)
Carlos Cavazo – guitar (2008-2014,2016-present)
Juan Croucier – bass (1982-1983,1983-1992,2012-2014,2016-present)
Jimmy DeGrasso – drums (2014,2016-present)
Studio Albums

1984: Out of the Cellar
1985: Invasion Of Your Privacy
1986: Dancing Undercover
1988: Reach For The Sky
1990: Detonator
1999: Ratt
2010: Infestation