Exodus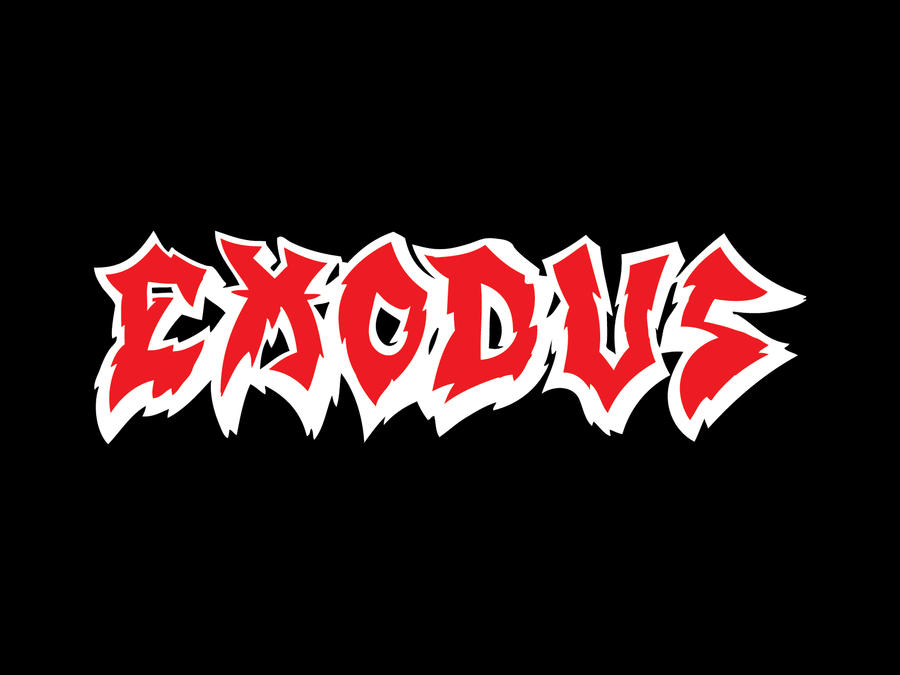 Exodus is an American thrash metal band from Richmond, California2. Founded in 1981, the band was initially composed of Kirk Hammett, Tom Hunting, Paul Baloff and Gary Holt.
Since its formation, Exodus has released a total of ten studio albums, two live albums, and two compilations. Along with Testament, Metallica, and guitarist Kirk Hammett, who founded Exodus, the band is considered a pioneer of the Bay Area thrash metal scene3,4 and has sold over 5 million albums worldwide as of 20135. Exodus is particularly praised for the release of its first three studio albums – Bonded by Blood, Pleasures of the Flesh, and Fabulous Disaster.
ormation and beginnings (1980-1983)
In 1980, guitarists Kirk Hammett and Tim Agnello, drummer Tom Hunting and bassist Carlton Melson formed the initial line-up of Exodus. Hammett named the band after Leon Uris' book of the same name2. Bassist Melson was later replaced by Geoff Andrews and singer Keith Stewart6,7. Before that, Agnello left his musical career and was replaced by Hammett's guitar technician, Gary Holt. In 1983, Hammett left the band to join Metallica and was replaced by Rick Hunolt; Rob McKillop was recruited as bassist.
Bonded By Blood and popularization (1984-1991)
Vocalist Steve "Zetro" Souza, replacing Paul Baloff, is a member of Exodus between 1986 and 1993, and again between 2002 and 2004. He joined the band in 2014.
The band released its first album Bonded by Blood in the summer of 1984. Sound engineering student Mark Whitaker is the producer. Photos from Exodus concerts at Aquatic Park's Eastern Front Metal Festival (with Slayer, Suicidal Tendencies), and Ruthie's Inn (with Megadeth and Slayer) are included on the album. Originally titled A Lesson in Violence, the album was not released until April 1985. Although Bonded By Blood is considered by fans to be a very influential album in the thrash metal scene, the trade press is adamant that it would have had more impact had it been released much earlier. Eduardo Rivadavia of AllMusic explains that "if it had been released immediately after its recording in 1984, Bonded by Blood would be considered today, in a similar way to Metallica's Kill 'Em All, as one of the albums unquestionably responsible for launching the thrash metal wave. "Shortly before the promotional tour for Bonded by Blood, Paul Baloff was fired from the band and replaced by Steve "Zetro" Souza, former singer of the local band Legacy, later Testament. Baloff founded the band Piranha.
The Exodus line-up remained stable for the recording of their successive albums, and the underground success achieved with Bonded by Blood led to the signing of the band with Sony/Combat Records, which distributed their second album Pleasures of the Flesh in 1987. Fabulous Disaster, the band's third album, was released in 1989. A video clip of the title The Toxic Waltz is regularly aired at the Headbangers Ball on MTV in 19899. In the promotion of Fabulous Disaster, Exodus participated in the Headbangers Ball Tour alongside Anthrax and Helloween, allowing the band to expand its audience. After the success of Fabulous Disaster, Exodus signed with Capitol Records in early 1990, who would distribute their fourth album, Impact is Imminent, later that year. Before the recording of the album, Tom Hunting was replaced on drums by John Tempesta. In 1991, the band released their first live album, Good Friendly Violent Fun, recorded on their 1989 tour.
From Force of Habit to Tempo of the Damned (1991-2004)
Bassist Jack Gibson joined Exodus in 1997.
After the release of Good Friendly Violent Fun, the band sporadically participated in tours. Bassist McKillop was replaced by Michael Butler before the recording of Force of Habit in 1992. The album marks a certain change in the band's musical direction. During the tour, the band will call upon Chris Kontos on drums for two concerts in Argentina in April 1993, and Gannon Hall for the month of May in Japan10.
After the promotional tour of Force of Habit, differences of opinion lead to the dissolution of the group. However, just after a year of inactivity, Holt and Hunolt reunited with singer Paul Baloff, drummer Tom Hunting, and the band's new bass player Jack Gibson. They released the live album Another Lesson in Violence in 1997. However, the band broke up again the following year, in part due to Century Media's promotional rejection.
In 2001, Exodus reformed again, to play the Thrash of the Titans concert. Discussions were underway for a new album, and the band continued to play in and around the San Francisco Bay Area. However, in February 2002, Paul Baloff died of a stroke. Former singer Steve Souza returned to finish the rest of their tour. After Baloff's death, guitarist Gary Holt seemed determined to record a new album. Subsequently, Tempo of the Damned was released in 2004 and distributed by Nuclear Blast Records.
Changes and new albums (2005-2010)
Singer Rob Dukes is one of the three new members to join Exodus in 2005. He remains in the band until 2014.
Steve Souza left the band due to personal differences in 200411. Gary Holt issued a statement violently criticizing Souza, explaining his departure a day before their tour in Mexico12. He was initially replaced by Steev Esquivel (former member of Defiance and Skinlab). The band finally found a permanent replacement, Rob Dukes.
In 2005, Rick Hunolt was fired for drug addiction. He is replaced by the guitarist of Heathen Lee Altus. Tom Hunting also left the band due to nervous problems leading to his temporary departure in 1989. Hunting is replaced by Paul Bostaph, former member of Slayer and Testament. This line-up released the album Shovel Headed Kill Machine in 2005. The tour of the album leads to a long tour in America, Europe, Japan, and Australia. Tom Hunting returned to the band in March 2007 to release their eighth album The Atrocity Exhibition… Exhibit A. They play at the Wacken Open Air festival in the summer of 2008. In April 2009, Exodus participated in an American tour with Kreator, Belphegor, Warbringer, and Epicurean. Exodus participated in another tour with Arch Enemy, Arsis, and Mutiny Within.
Exodus releases a reissue of their debut album Bonded by Blood, entitled Let There Be Blood. Gary Holt explains the band's decision regarding the reissue of their debut album, "After a few years of discussions, we finally completed the Bonded By Blood13 reissue. "
The album Exhibit B: The Human Condition was recorded in Northern California alongside British producer Andy Sneap (Megadeth, Arch Enemy, Kreator) and was released on Nuclear Blast Records in May 2010.14 In January 2010, Exodus took part in the tour for the 20th anniversary of Megadeth's album Rust in Peace, with Testament. Exodus toured with Kreator, Suicidal Angels and Death Angel at Thrashfest in late 2010.
Blood In, Blood Out (since 2011)
Exodus leaves with Rob Zombie and Slayer in 2011 for their Hell on Earth tour. Slayer recruits Gary Holt, during their tour, while Hanneman tries to recover from necrotizing fasciitis caused by a spider bite15. Holt once again replaced Hanneman on their next tour in 2012. On Exodus' summer 2012 tour, guitarist Rick Hunolt (who left the band in 2005) replaced Holt16. In the summer of 2012, Exodus began recording their tenth album17,18,19.
On June 8, 2014, Exodus announced the return of its former vocalist Steve "Zetro" Souza20,21. Blood In, Blood Out was positively received by the trade press, reaching number 38 on the Billboard 20022.