Enslaved
Enslaved is a Norwegian ¨Progressive Black Metal band formed in the city of Haugesund, Norway.

Enslaved was created in 1991 by keyboardist and guitarist Ivar Bjornson Peersen and bassist Grutle Kjellson. In the summer of 1992, the first demo was recorded, with Trym on drums.
The following year the band presented the demo Hordanes Land, which was released as a split album together with the band Emperor.
The year 1994 was very productive for the band: in spring, the first album, "Vikingligr Veldi" was released, and in winter, it was "Frost's turn". At the beginning of 1995, the band started the Winter War Europe Tour '95, having been the first Norwegian black metal band to perform in the United States, Mexico and Canada. Shortly afterwards, Trym Torson joined the band Emperor.
The next album, Eld, was recorded with drummer Harald Helgeson, but the band felt it was not a good solution and hired Dirge Rep as well as R. Kronheim.
In 2000, the album Mardraum – Beyond the Within was presented. This album caused great excitement in the extreme metal circuits. In 2001, "Monumension" received the same positive reception, which left the band in awe. In March 2002, Kronheim left the band.
Below the Lights (2003) is a mix between the band's initial black metal and the Progressive and dark metal of the Mardraum album. Dirge Rep leaves the band after recording this album. The band takes advantage of this fact to change the lineup: Cato Bekkevold, Arve Isdal and Herbrand Larsen join the band. This new lineup records the album "Isa", and then goes on tour across Europe.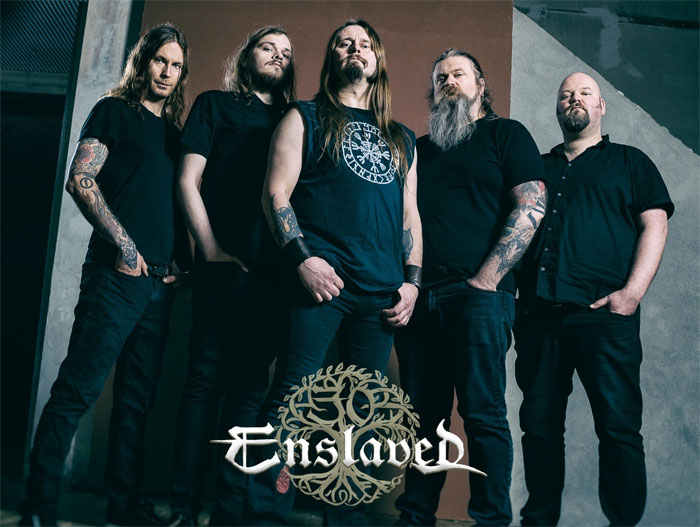 Enslaved receives a Norwegian Grammy and an Alarm Price for the album Isa. Several festivals followed during 2005, culminating in the Return to Yggdrasil DVD.
"Ruun", released in 2006, is critically acclaimed and received the Norwegian Grammy for Best Metal Album of 2006. The band participates in several summer festivals. In September, they return to tour Europe. At the beginning of 2007, the band toured the United States and Canada for a month together with the band Dark Funeral. In November, the band visits Europe and the United States on the Enslaved World Tour Part II.
On March 10, 2015, In Times was released by Nuclear Blast Records. In December 2016, Ivar Bjornson confirmed the departure of keyboardist and vocalist Herbrand Larsen.
Enslaved's fourteenth studio album is called "E", and was released on October 13, 2017.
Metal Hammer magazine chose his album Utgard as the ninth-best Metal album of 2020
Current members

Ivar Bjørnson – guitar, keyboards, backing vocals (1991–present)
Grutle Kjellson – vocals, bass (1991–present)
Ice Dale (Arve Isdal) – guitar (2002–current)
Håkon Vinje – keyboards, vocals (2017–present)
Iver Sandøy – drums, vocals (2018-present)
Studio albums
Vikingligr Veldi (1994)
Frost (1994)
Eld (1997)
Blodhemn (1998)
Mardraum – Beyond the Within (2000)
Monument (2001)
Below the Lights (2003)
Isa (2004)
Ruun (2006)
Vertebrae (2008)
Axiom Ethics Odini (2010)
RIITIIR (2012)
In Times (2015)
E (2017)
Utgard (2020)